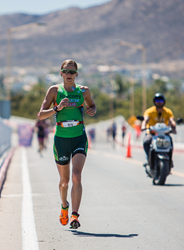 Missoula, MT (PRWEB) July 10, 2014
"Montana Made" triathlete and Ironman Champion Linsey Corbin has partnered with KAMUT® Brand khorasan wheat for optimum running nutrition.
KAMUT® Brand khorasan wheat, an organic, heirloom grain is an emerging super food for athletes. More so than most other grains, KAMUT® wheat contains a high percentage of lipids, which are healthy fats. It is also rich in protein and minerals—including selenium and zinc. These micronutrients are powerful antioxidants and are effective in counteracting oxidative stress that impairs recovery, making them favorable to endurance athletes like Corbin.
Corbin recently took first place at the Ironman in Austria on June 29 where she competed in a 2.4-mile swim, 111.9-mile bike and a 26.2-mile run. In addition to coming in first, Corbin set a new American record as the fastest female over the Ironman distance and raced the fifth fastest time in the history of Ironman in the women's category.
It's endurance events like these that require Corbin's premium nutrition and fueling. Whether you're an Ironman Champion like Corbin or someone who enjoys running for fun, Corbin offers her top nutrition tips to help boost your endurance while running:
1. Fuel With Carbohydrates - Athletes need approximately 55-65% of their calories to come from carbohydrates, as they feed your muscles when running. Carb intake should come from "high-quality" whole grains, such as KAMUT® Brand khorasan wheat, as it offers immediate energy and lipids to store additional fuel.
2. Power With Protein - Protein provides amino acids which aids in building and repairing muscle. The USDA's recommended dietary allowance for protein is .8 g/kg of bodyweight and 1.0-1.6 g/kg a day for endurance athletes. Good sources of protein include chicken, turkey, fish, lean cuts of beef, eggs, nuts, low-fat milk, yoghurt and cheeses.
3. Keep Hydrated - It's important to drink approximately 6-8 ounces of fluids every 15 minutes. This can include either water or other fluids including sports drinks or energy gels. Hydration when running is important, especially during the hot summer months, as it provides you with energy and replaces the electrolytes you lose in sweat during a long distance running event.
4. Before/After Nutrition – Eating helps your body to repair, recover and reduce the chance of injury or illness. Consume your pre-workout meal 30 minutes before your run and your post-workout meal within 45 minutes after completing your run. Try eating a combination of protein and carbohydrates and avoid fat, fiber and anything that triggers stomach discomfort. One of Corbin's favorite pre-race breakfast meals is the KAMUT® Brand khorasan wheat hot cereal with banana.
Born in Bend, Oregon, Corbin claims the fastest Ironman time recorded on U.S. soil and holds five triathlon course records. Linsey believes that a proper diet is an essential part of any training program and can have a major influence on your results. As someone who eats six meals a day and consumes 6500 calories during a race, Corbin says nutrition, particularly protein and carbohydrates, are the key elements that help to boost her endurance during a run. Corbin is set to compete in the Ironman World Championships in Kailua-Kona, Hawaii on October 11, 2014.
About KAMUT® Brand Khorasan Wheat
The mission of Kamut International is to promote organic agriculture and support organic farmers, to increase diversity of crops and diets, and to protect the heritage of a high quality, delicious ancient grain for the benefit of this and future generations. KAMUT® is a trademark of Kamut International which guarantees high quality standards that are verified by tests from every field.