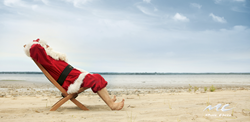 New York, NY (PRWEB) July 14, 2014
For the first time ever, Music Choice will celebrate "Christmas in July" with non-stop holiday music on its Sounds of the Seasons Music Channel today through July 20th.
MC's Sounds of the Seasons Music Channel will feature holiday favorites from artists including Nat King Cole, Bing Crosby, Burl Ives, Frank Sinatra, along with contemporary versions of classics from Michael Buble, Kelly Clarkson, Harry Conick Jr, Diana Krall and many more! Holiday photos of snowmen, Christmas trees, and Santa Claus on the beach will appear onscreen to help consumers stay cool during the hottest month of the year.
For additional information log on to http://www.MusicChoice.com or follow us at Twitter: @MusicChoice | Facebook: http://www.facebook.com/MusicChoice.