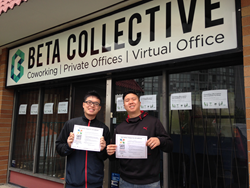 Everyone needs to play a role in building a respectful and inclusive community - Jason Wong, The Beta Collective
Surrey, British Columbia (PRWEB) July 09, 2014
The Beta Collective, Surrey's first co-working space for entrepreneurs and semi-home based businesses, is proud to announce its partnership with Safe Harbour Respect for All, a province-wide program funded by Embrace BC. Safe Harbour provides workshops to organizations to assist them in creating respectful and welcoming environments for all. Jason Wong, co-founder of the Beta Collective, said "Safe Harbour is a good fit with our business model. We are here to serve the needs of the business community in Surrey, and the fact that we are all about providing a co-working space, means it is important that people who use our space are aware and respectful to one another." Jason Wong first learned of the program from Pansy Hui, a friend who worked with AMSSA. When he opened his doors he did not forget the community values the program is known for. In fact, Jason was quick to make his business a certified Safe harbor location by calling Meenu Dhillon, Safe Harbour trainer at DiverseCity.
"Community values are important to me. I think everyone needs to play a role in building a respectful and inclusive community – it can't always be done by the Pasty Hui's of the world – and I'm glad to be a supporter of the Safe Harbour Program."
Jason Wong and Elvin Cheung also work with not-for-profits by supporting them with use of their space. For example, The Beta Collective offered Autism Canada's Applied Behaviour Analysis (ABA) Group use of their location for their annual board of directors meeting. "The Beta Collective is an excellent example of how local business can work with members of its community to promote diversity and inclusiveness," says Jeff Madigan, Safe Harbour Program Coordinator. The Beta Collective is located at 13637 100th Ave in Surrey, British Columbia. Organizations wishing to learn more about the Safe Harbour Program can call 1-888-355-5560.