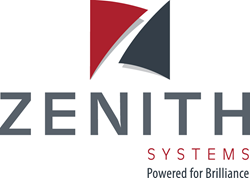 Our new brand exemplifies the evolution of our company as a total solutions provider under one roof.
Cleveland, OH (PRWEB) July 09, 2014
Zenith Systems announced the launch of a rebranding campaign, featuring a new logo, tagline and website. The rebrand of Zenith reflects the company's renewed focus as a total solutions provider, accentuating the company's dedication to functioning as a unified team with a wide variety of capabilities.
"Our new brand exemplifies the evolution of our company as a total solutions provider under one roof. We are committed to our clients, our employees and our new tagline, 'Powered for Brilliance,' which showcases just how we're able to make the impossible, possible, " says Paul Francisco, president of Zenith Systems.
The logo is designed to be bold and abstract, the font is modern and clean and the colors are meant to suggest high energy and a bright future. The arrow color blocks in the logo represent a look to the past and toward the future, and also utilize the negative space, creating a "Z" shape, staying abstract, but remaining recognizable to the viewer.
The new website, zenithsystems.com, continues the evolution of Zenith Systems, includes new case studies and will be updated with new projects and information on a regular basis.
Given Zenith Systems' impressive project portfolio, the team is truly a total solutions provider, offering a complete line of electrical and technology contracting services and shaping the experience and neighborhoods throughout Northeast Ohio. Zenith is currently working on the new First Energy Stadium renovation project, and recent projects include the Playhouse Square District revitalization, the Global Center for Health Innovation and Cleveland Convention Center, the Cleveland Museum of Art, the new Eaton Center World Headquarters, Marymount Hospital, Cleveland Clinic data centers and countless schools throughout Ohio.
About Zenith Systems:
As one of the country's premier electrical and technology systems contractors, Zenith Systems is able to meet virtually all electrical contracting needs, from installation to engineering and design and all facets in between. With capabilities in design build, performance-based services and competitive bid contracting, Zenith Systems delivers a complete package of building solutions. Zenith Systems is experienced in U.S. government contracts as well as completing numerous projects for Fortune 500 companies, universities, hospitals and other institutions.
Zenith Systems' team of dedicated professionals has extensive capabilities and experience in the delivery of electrical, technology, engineering, audio/video, voice and data networks, security and fire alarm systems, energy management and building automation services. For more information about Zenith Systems, please visit zenithsystems.com.