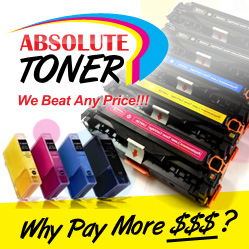 Each ink cartridge supplied by Absolute Toner is of the highest quality.
Toronto, Ontario (PRWEB) July 15, 2014
Absolute Toner, a leader in high quality compatible ink cartridges is proud to announce the availability of the compatible for HP 932XL/933XL. These cartridges are the perfect solution for a home or office that needs replacement ink cartridges for their HP OfficeJet 6100, HP OfficeJet 6600 or HP OfficeJet 6700 Premium. This latest line of compatible ink cartridges is another addition to the quality compatible ink cartridges already provided by Absolute Toner. To view the cartridges and all of their details, please visit: http://www.absolutetoner.com/hp-ink-cartridges/1164-hp-932xl-933xl-ink-cartridges-compatible-combo.html.
The compatible ink cartridges for the HP OfficeJet series gives buyers incredible value as the compatible cartridges are offered at a savings of almost 90% off of what other retailers would charge for the name brand cartridges. Absolute Toner offers a combination compatible cartridge set which includes black, cyan, magenta and yellow ink cartridges. Absolute Toner is also adding single ink cartridges to their catalog for those customers that prefer to purchase the ink colors separately. The HP 932XL, black cartridge, yields 2,300 pages at 5% page coverage, providing customers with exceptional quality and functionality. The HP 933XL cartridges offer 1,500 pages at 5% coverage as well.
Each ink cartridge supplied by Absolute Toner is of the highest quality and comes with a guarantee that no ink smears will occur as they are made to be the same quality as the name brand cartridges. Each cartridge is tested for quality before shipment and performance of the product is guaranteed. Each cartridge that is sold by Absolute Toner is dedicated for one brand and one brand only. This takes away the risk that universal cartridges pose towards its users by providing a lower quality and less coverage. Each HP ink cartridge is dedicated for specific printers and is meant to provide the highest quality prints.
The HP 932XL and 933XL ink cartridges offered by Absolute Toner come with a lifetime warranty. Customer satisfaction is their utmost concern and is proven with their 100% customer satisfaction guarantee. All of the Absolute Toner products are available online and offer fast and free shipping to further guarantee customer satisfaction.
For more information about compatible ink cartridges for the HP 932XL or HP 933 XL or any other replacement cartridges, consumers can visit Absolute Toner online or call 877-437-5364. Visit our website here http://www.absolutetoner.com.
About Absolute Toner:
Absolute Toner is based in Toronto and operates its business online with the option of fast and free shipping to many areas. They offer dedicated ink and toner cartridges for specific brands to ensure optimal quality and function of each product that they sell. They offer a 100 percent customer satisfaction guarantee and stand behind every product that they sell for home and/or office use. The products sold by Absolute Toner are known for their high quality and low prices that are served by their outstanding customer service.