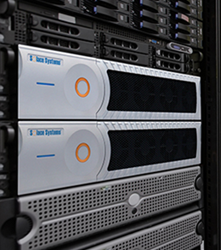 Solace's hardware-based approach to messaging eliminates the performance problems we've seen in software-based solutions.
Ottawa, Ontario (PRWEB) July 15, 2014
Solace Systems announced today that Spotex has selected Solace message routers to serve as the low latency messaging foundation of their foreign exchange (FX) electronic communications network (ECN). The Spotex ECN delivers fair, transparent FX trade matching that increases customer profitability by reducing response times and minimizing the difference between the prices at which orders are placed and filled, commonly called slippage.
"Solace offers a unique combination of operational simplicity and extreme low latency, allowing Spotex to build highly scalable and reliable solutions for our clients," said Ritesh Agrawal, CEO of Spotex. "Solace's hardware-based approach to messaging eliminates the performance problems we've seen in software-based solutions."
Solace message routers efficiently move information between trade participants and Spotex's high-speed matching engine. Solace ensures high availability to avoid many types of possible failures, which is essential to the 24-hour nature of FX markets.
"Spotex's foreign exchange ECN is a disruptive force within FX trading, one destined to open new trading strategies for buy side and sell side market participants," said Craig Betts, CEO of Solace Systems. "We are very pleased to be working with Spotex to deliver this innovative offering."
The Spotex foreign exchange ECN has been operating since June 2014.
About Solace Systems
Solace enables application-aware networks with its message routers that improve the way information moves between distributed applications. High-speed, reliable information sharing is an essential part of virtually all modern IT initiatives from accelerating legacy business processes to enabling big data, cloud computing and the Internet of Things. Solace message routers unify many kinds of data movement so companies can efficiently and cost-effectively move all of the information associated with better serving customers and making smarter decisions. Solace is a leading provider of application-aware networking equipment, with a rapidly growing customer base that spans all major industries. To learn more visit http://solacesystems.com.
About Spotex
Spotex was founded in 2010 by FX industry veterans. The company's goal since inception has been to provide a fast, unbiased and reliable FX exchange to serve the retail client base with the highest level of integrity and transparency. The Spotex management team consists of FX professionals who have held senior positions at major financial institutions, ECNs, brokers and banks.