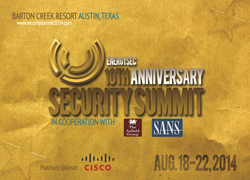 Austin, TX (PRWEB) July 10, 2014
In-demand presenters, five-star accommodations, world-class entertainment and pro-level golf all nestled under the picturesque skies of Texas' hill country mark just some of the highlights of this year's EnergySec 10th Anniversary Security Summit in cooperation with The Anfield Group and the SANS Institute.
Ten years in the making, the 5-day event includes SANS Critical Security Controls training, valuable CIP workshops and presentations from some of the industry's most knowledgeable and prolific security professionals. All this will take place at the Omni Barton Creek Resort in Austin, TX from Aug. 18-22. A special discounted room rate is available at this luxury hotel for summit attendees.
"Promoting new ideas, programs and solutions that support improving cyber and physical security of the energy sector is our goal" said Steve Parker, EnergySec President. "This summit is the place to be to learn and network with the people who can help make a significant difference - for you and your organization. Whether it is technical industrial control system security knowledge you seek or a better way to address the NERC CIP standards, you won't find a more inviting event in North America."
To kick things off, we are honored to welcome Congressman Michael T. McCaul as keynote speaker. With his experience as Chairman of the House Committee on Homeland Security and his High Tech leadership background, the Texas congressman's message is sure to be especially informative and inspiring.
A full copy of the agenda can be found here - http://www.securitysummit2014.com/agenda/.
The weeklong event will culminate in a special awards presentation and gala recognizing the industry's best security professionals and executive leadership. In addition to the award ceremony, attendees will be treated to a special performance by the world famous illusionist, Reza. He is recognized as the nation's top-touring illusionist and entertainer. A golf tournament "scramble" at Texas' #1 golf resort rounds out the week's activities.
Click HERE for more information or to register.
About EnergySec
The Energy Sector Security Consortium, Inc. (EnergySec) is a United States 501(c)(3) non-profit organization formed to support organizations within the energy sector in securing their critical technology infrastructures. We support information sharing and collaborative programs and projects that improve the cyber security posture of these organizations.
EnergySec is a community of information security, physical security, audit, disaster recovery and business continuity professionals from energy industry utilities. Participation is international, including all regions throughout North America, South America, Europe, Asia and Australia. EnergySec operates many programs, events and technology solutions designed to help improve the security posture of the energy sector.