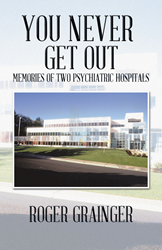 Society still needs to take a look at the way mental illness is addressed today.
Leeds, England (PRWEB) July 11, 2014
Having experienced mental illness from the perspectives of a patient and later as a member of mental hospital staff, Roger Grainger gives readers an intimate look at issues usually only discussed among medical professionals in his new book, "You Never Get Out."
According to the Mental Health Foundation, 1 in 4 people in the United Kingdom will experience some kind of mental health problem in the course of a year.
"Society still needs to take a look at the way mental illness is addressed today," said Grainger. "Issues include the growing number of cases being diagnosed too late, the lack of individualized treatment, as well as the stigmatization of psychiatric patients, staff and hospitals."
Grainger was admitted to a mental hospital in Northern England at age 18 and later trained as an Anglican minister before working as a chaplain of a large mental hospital. Currently, Grainger is an Associate Fellow of the British Psychological Society and a registered psychologist.
Pulling from his own experiences in mental hospitals, Grainger focuses on the gaps of institutional life as well as the humanity of the patients in the semi-autobiographical "You Never Get Out."
"It's time to take a fresh look at the old hospitals," said Grainger. "This will help us to answer the question of 'Were these places just easy answers to mental illness or did they have something of real value to offer?'"
You Never Get Out: Memories of Two Psychiatric Hospitals
By Roger Grainger
ISBN: 978-1-4907-1672-5
Available at Amazon, Barnes and Noble and Abbott Press.
About the author:
Roger Grainger was born in 1934 in Northern England. He is a member of the Royal Academy of Dramatic Art and was a Shakespearian actor, with the London Old Vic, before becoming a psychiatric chaplain. He holds a Doctorate of Divinity from London University. Grainger has written several books on mental health, including "Watching for Wings" "Strangers in the Pews," and a series of books about drama therapy.
###
EDITORS: For review copies or interview requests, contact:
Publicist: Muriel Cross | mcross(at)bohlsengroup(dot)com | 317-602-7137
(When requesting a review copy, please provide a street address.)