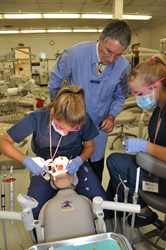 I am confident Maine will see the fruits of these efforts in the coming years as some of these students choose dental careers because of their introduction to the many exciting possibilities open to them. -Dean James Hanley, DMD
Portland, ME (PRWEB) July 10, 2014
Maine's shortage of dentists, especially in rural areas, is expected to grow over the next 10 years as many dentists retire. To inspire the next generation of dental professionals, the University of New England (UNE) is hosting its fourth annual "Dental Careers Exploration Camp" for high school students on Sunday, August 3– Tuesday, August 5, 2014 at UNE's new Oral Health Center on the Portland Campus. Students hail from communities across Maine, from North Berwick to Eastport.
UNE, the leading educator of health care professionals in Maine, opened the first College of Dental Medicine in northern New England in the fall of 2013. Its inaugural class of 64 included 24 students from Maine, representing 100 counties and more than 20 towns. UNE has operated a dental hygiene program at its Portland campus since 1961.
The 2014 Dental Careers Camp has enrolled about 18 students in grades 8-12 who will participate in a three-day experiential program at UNE's 64-seat simulation center in the new state-of-the-art Oral Health Center, where they will learn procedures such as restorations and digital X-ray, suturing, dental impressions, pouring and trimming. A 2011 dental camp alum who said the experience was transformative in her career choice and is now attending a pre-dental college program will return to assist with this year's dental camp.
Students will also participate in a job shadow experience with Scarborough/Saco/Biddeford area dentists, visiting with and observing activities in a dental office.
UNE College of Dental Medicine Dean James Hanley, DMD, says, "Since the launch of this camp in 2010, together with UNE's ongoing outreach into Maine schools throughout during the year, more than 500 Maine students have experienced dentistry careers through innovative hands-on activities. I am confident Maine will see the fruits of these efforts in the coming years as some of these students choose dental careers because of their introduction to the many exciting possibilities open to them."
A snapshot of a few of the registered campers includes a student of Passamaquoddy heritage who shadowed his dentist recently and aspires to be a dentist; an Eagle Scout who has earned his dentistry merit badge and is in the gifted & talented math program at his high school; a student who broke a tooth while playing on a trampoline and wants to help someone else the way dental professionals helped him; and a student who has researched dentistry and learned the US Bureau of Labor Statistics predicts excellent growth in oral health occupations through 2020.
UNE's Dental Careers Exploration Camp is sponsored by TD Bank Foundation, Time Warner Cable, and the Maine AHEC Network.
About University of New England
The University of New England is an innovative health sciences university grounded in the liberal arts, with two distinctive coastal Maine campuses and unique study abroad opportunities, including a new campus in Tangier, Morocco. UNE has internationally recognized scholars in the sciences, health, medicine and humanities, and offers more than 40 undergraduate, graduate and professional degree programs.
For more information, contact Kathleen Taggersell at 207-602-2269 or ktaggersell(at)une(dot)edu.