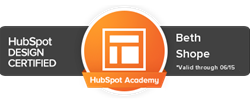 The COS strikes a balance between the inclusive, one-size-fits-all website and the nirvana of the highly personalized "market of one."
Rochester, NY (PRWEB) July 09, 2014
The HubSpot Content Optimization System or COS is an advanced take on the traditionally "static" Content Management System (CMS) on which many of today's websites are built. While the CMS has been the go-to tool for web designers and their clients to build and maintain websites, the HubSpot COS enables responsive content, meaning that web pages, landing pages, blogs and emails are personalized based on who is viewing them.
Extending her mastery of HubSpot and Inbound Marketing tactics, and applying her more than 10 years of web design and advanced HTML and CSS knowledge, PLS Web Design Specialist Beth Shope has demonstrated her proficiency in the HubSpot COS platform and best practices. The HubSpot COS Design Certification requires designers to complete approximately 20 hours of training, pass a comprehensive test and successfully complete a hands-on practicum.
Many companies are motivated to move their websites to the HubSpot COS based on the premise that providing highly relevant content increases the probability of engaging website visitors and identifying business opportunities.
The COS strikes a balance between the inclusive, one-size-fits-all website and the nirvana of the highly personalized "market of one." It enables marketers to target an audience segment with content and offers that address their common business issues, using language and messages that resonate with them.
"Most of the B2B companies that PLS serves segment their audiences by vertical industry, geography, job function, or other qualifications. Our HubSpot COS knowledge will let us help clients more specifically and effectively target these groups, while still maintaining ease of implementation and control of their content," PLS Vice President John Veckerelli said.
Shope, Veckerelli and Social Media Specialist Katie Steelman are all currently HubSpot Inbound certified, and PLS Launch Solutions also holds Partner Certification.
About PLS Launch Solutions
PLS Launch Solutions (http://www.launchsolutions.com) specializes in B2B marketing for optics, high tech and services companies looking to grow. Based in Rochester, N.Y., PLS works with companies to create and execute marketing strategies and develop intellectual property. The team includes marketing consultants, writers, designers, and web/SEO specialists from diverse business and technical backgrounds, all focused on helping clients increase sales and meet business objectives.
About HubSpot
Over 10,000 customers in 65 countries use HubSpot's software, services, and support to transform the way they attract, engage, and delight customers. HubSpot's inbound marketing software, ranked #1 in customer satisfaction by VentureBeat and G2Crowd, includes social media publishing and monitoring, blogging, SEO, website content management, email marketing, marketing automation, and reporting and analytics, all in one integrated platform. The HubSpot Content Optimization System (COS) blends content and context to create rich, fast, personalized experiences across email to social to web. HubSpot (http://www.hubspot.com) was founded in 2006 and is based in Cambridge, Mass.