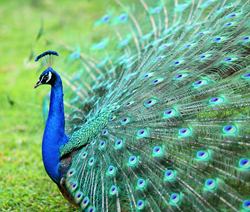 Tellico Village - 2014 Happiest Community of the Year
Knoxville, TN (PRWEB) July 10, 2014
Successful master-planned communities know how important it is to have clear communication with its residents. Tellico Village has earned some bragging rights with us for this fantastic achievement. Tellico Village is known for being one of the friendly retirement communities in Eastern Tennessee, and their communication system does an excellent job in helping the residents stay informed about everything happening in the village. From Tell-Events to the community's dedicated television Channel 3, residents are constantly informed about fun things to do at the village. Here's a brief sampling of what's happening in the middle of July:
TELLICO VILLAGE SOCIAL CLUBS
July 11 - Village Quilters Guild Meeting
July 14 - Craft Connection
July 15 - Model Boat Sailing
TELLICO VILLAGE FITNESS
July 11 - Tellico Village Hiking Club hike Lilly Bluff Trails
July 14 - Muddy Boots hike Big Creek Trail
July 15 - Wellness Warriors
TELLICO VILLAGE UNIVERSITY
July 14 - Memoir Writing Class
July 14 - Just for Fun Photography
July 17 - Healthy House Chores Seminar
While everyone enjoyed the Fourth of July celebrations, Tellico Village volunteers are gearing up again for more monthly socials and July events. On July 8, 2014, Tellico Village will host their monthly meeting to mingle with new Villagers and discuss community topics from 5 - 6:30 p.m. On Wednesday July 16, 2014, Residents and members of the Tellico Village Homeowners Association will gather for the Lake House Dining Out event at the Sequoyah Resort in Vonore, Tennessee. Beginning at 4:00 p.m. owners of Tellico Lake homes can enjoy a night out on the water with their neighbors. For those who don't own a boat, it is common for the Tellico Village volunteers to share their own watercraft with their neighbors. That is why so many Baby Boomers decide this is where to retire in Tennessee – old fashioned southern hospitality!
While some neighborhoods may think they are one of the friendly retirement communities, Tellico Village is proven to be so. Owners of Tellico Lake homes stay closely connected because of their exemplary communication system. Residents can tune into Channel 3 to learn about the Tellico Village Players, Property Owners Association, Golf Advisory Committee and more.
Channel 3 is the official Public Access Community Television station that serves Tellico Village. The Channel 3 staff is comprised of 15 Tellico Village volunteers who work hard to find the latest updates about the 200 organized community clubs, updates about the monthly events and activities, and also stays connected to the their rescue services since they are in close proximity. Channel 3 is located directly above the Fire Hall in Tellico Village, and the organization offers a 24-hour answering service to keep the communication open and available for residents.
Tellico Village is one of the friendly retirement communities in Tennessee, but they are also one of the largest places to own Tellico Lake homes. It is imperative that the residents know what is happening to insure safety, security and trust within the enormous village. From learning about the latest performance at the Tellico Community Players Playhouse or getting an update about the local weather, their channel 3 and communication updates are priceless benefits for anyone deciding where to retire in Tennessee.
While it is great to get all the updates about the community, it is even better to learn about the high quality amenities that are offered at Tellico Village. Located just 30 minutes away from Knoxville, this charming Eastern Tennessee lake community is the buzz of the area.
Take a peek at Tellico Village homes
Retirees enjoy a laid-back lifestyle close to the foothills of the Great Smoky Mountains. It is known as one of the finest golf communities in the area and also caters to people who live for lake activities like boating, fishing and swimming. For those who have a passion for the outdoors and cannot wait to dive into the social activities, Tellico Village is the ideal place to pursue everything. Check out the other Tellico Village amenities that are wowing Baby Boomers everywhere:
TELLICO VILLAGE AMENITIES
Three 18 Hole Championship Golf Courses
Lakefront Yacht Clubhouse with dining
Three Golf Clubhouses with dining
26,000 Square Foot Wellness Center
Indoor and Outdoor Swimming Pools
10 Tennis Courts
8 Pickleball Courts
Full Service Marina with Boat Slips
Community Parks
New Library
To learn more about available Tellico Lake homes and to schedule a Discovery Package visit, call Tellico Village direct at 888.287.0676.
About Real Estate Scorecard:
Real Estate Scorecard writes unbiased real estate reviews providing in-depth information about popular gated communities in Florida, Georgia, North Carolina, South Carolina and Tennessee, all in an effort to help people discover where to retire in the Southeast.
Website: http://realestatescorecard.com