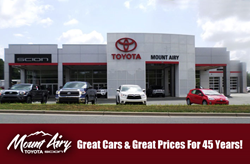 Our name changed but we are still the same dealership! -- Nicky York, Mount Airy Toyota Scion
(PRWEB) July 11, 2014
This month, Mount Airy Toyota Scion celebrates being in the Mount Airy community for 45 years. "We are celebrating all month with new and used car specials," says Nicky York, general manager of Mount Airy Toyota. Nicky York has been with the dealership for 38 years. "I've seen a lot of changes around here, including the recent change in ownership, but our values have stayed the same," says York. "We have a saying around here, 'Like our people, love our prices." York explains that people come first in the car dealership business.
Recently, the Toyota dealership in Mount Airy, NC changed ownership. Scott McCorkle of Charlotte, NC took over ownership in May 2014.
"We are excited to celebrate 45 years of Toyota in the Mount Airy area. It has been our goal to serve the community with the same values and integrity the Patterson family did," says McCorkle. "Nicky York is a great asset and we are blessed to have him continue to lead at Mount Airy Toyota."
The Patterson family started the Toyota dealership in July of 1969. Nicky York joined the team seven years later. He has been a part almost since the very beginning.
"Our name has changed, but we are still the same dealership that has been a part of this community for 45 years," says Nicky York. "Mr. McCorkle has made the transition seamless and has helped us operate in the same way since I've been here- People first and prices low!"
According to Mt. Airy News, Paul Patterson, previous owner, said "They want to carry it on just the way we've done for 45 years." According to McCorkle, that means keeping the same employees with no layoffs planned.
"Any dealership that can thrive for 45 years is doing something right. There is no reason to change it," says McCorkle. "I'm excited and proud to a part of such a long legacy."
"We've continued our committed to lower prices and a people-oriented business model," says York. "So if you need a good car, check out specials.
Mount Airy Toyota Scion is celebrating through the month of July with special pricing and leases.
Currently, you can get the 2014 Toyota Camry SE Lease - $189 per Month / 24 Months / $2,588 Due at Signing
or the 2014 Toyota Prius c Lease - $179 per Month / 36 Months / $2,578 Due at Signing.
Mount Airy Toyota Scion serves Surry County including the communities of Salem, Woodville, and Pine Ridge.
For more information about Mount Airy Toyota Scion specials visit their website at http://www.mountairytoyota.com or call them at 336-786-2118.
Kelly Bladl
Google author