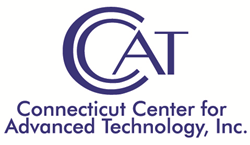 This is an exciting opportunity to work with the EWIB and build the skilled workforce needed to sustain and grow manufacturing in the future.
East Hartford, CT (PRWEB) July 10, 2014
As part of its efforts to recruit a skilled workforce ready for careers in Connecticut's advanced manufacturing sector, the Connecticut Center for Advanced Technology (CCAT) in East Hartford is partnering with the Eastern Workforce Investment Board (EWIB) to offer the Dream It. Do It. Young Manufacturers Academy, a unique summer program for grade 7-8 students in Groton and New London.
The Academy is part of the "Dream It. Do It." initiative, a national career awareness and outreach campaign designed to promote a positive image of manufacturing that is sponsored by The Manufacturing Institute in Washington, D.C. The Institute received a national partnership grant from the Motorola Solutions Foundation to expand CCAT's highly successful Young Manufacturers Summer Academy program.
Along with the Groton-New London program, Dream It. Do It. network states New York, Florida, and Arkansas will also sponsor local academies this summer based on the CCAT program model.
"This is an exciting opportunity to work with the EWIB and build the skilled workforce needed to sustain and grow manufacturing in the future," stated Elliot Ginsberg, president and chief executive officer, CCAT. "We're pleased that the Motorola grant allows us to expand our successful on-going work in STEM education and workforce development programs into Eastern Connecticut."
The Groton-New London Academy is a week-long experiential, hands-on learning opportunity that showcases different aspects of the manufacturing industry and introduces some of the fundamental skills and tools needed for careers in manufacturing. Over the course of the program, the 25 girls and boys enrolled in the Academy will learn how manufacturing has changed over the years into a high-tech, high-skill industry offering a wide range of career opportunities.
Students will participate in workshops that teach principles of lean manufacturing, engineering design, CAD, and 3-D printing. One of the highlights of the program is an onsite experience hosted by Electric Boat. The program focuses on teamwork, collaboration, problem solving, and communication – critical 21st century skills that contribute to future workplace success. On the final day of the program, students and their families will attend a mock career fair and luncheon with local manufacturers, where they will learn more about future jobs and employment requirements.
"CCAT's program model enables local students to spend a week working hands-on with cutting-edge technology, providing an opportunity to see if a manufacturing career is right for them," said John Beauregard, EWIB executive director. "It's an incredible benefit to the students, their parents, and future manufacturing employers."
Locally, the EWIB has worked through its partnership with the Eastern Advanced Manufacturing Alliance (EAMA), a coalition of Eastern Connecticut manufacturing employers, including Electric Boat, to sponsor outreach efforts that promote a positive image of manufacturing and increase career awareness.
"Connecticut's employers are increasingly concerned about the pipeline of workers who will be ready to meet the demands of the 21st century workplace. Introducing a new generation of students to today's manufacturing, and attracting them to manufacturing-related careers through the Dream It. Do It. Young Manufacturers Academy program, is critical to the future of the industry and the state's economic prosperity," stated Ginsberg.
The Dream It. Do It. Young Manufacturers Academy program runs July 7-11 at Ella T. Grasso Southeastern Technical High School in Groton, Conn. In addition to funding provided by the Motorola Solutions Foundation grant and the EWIB, the program is also supported through funding from the Connecticut Community College System/College of Technology Regional Center for Next Generation Manufacturing NSF ATE Center.
About CCAT
The Connecticut Center for Advanced Technology, Inc. (CCAT) is a non-profit, economic development organization that leads and partners with industry, academia and government statewide and across the nation to help organizations succeed in today's global market. Through its specialized centers of excellence in manufacturing technology, education and workforce development, alternative energy and information technology, CCAT provides expertise to research and develop unique solutions that increase efficiencies and boost competitiveness. CCAT is headquartered in East Hartford, Connecticut. For more information, go to http://www.ccat.us.
About EWIB
The Eastern CT Workforce Investment Board is a not-for-profit organization that oversees public investments in employment and training strategies throughout a 41-town area, and guides the operation of four American Job Center-East Centers located in: Danielson, New London, Norwich, and Willimantic. For more information, go to http://www.ewib.org.
About Motorola Solutions Foundation
The Motorola Solutions Foundation is the charitable and philanthropic arm of Motorola Solutions. With employees located around the globe, Motorola Solutions seeks to benefit the communities where it operates. The company achieves this by making strategic grants, forging strong community partnerships and fostering innovation. The Motorola Solutions Foundation focuses its funding on public safety, disaster relief, employee programs and education, especially science, technology, engineering and math programming. For more information on Motorola Solutions Corporate and Foundation giving, visit http://www.motorolasolutions.com/giving.