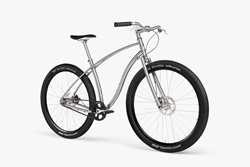 The Budnitz New No. 3 is an evolution of our most popular city bicycle. After two years of testing and engineering, it takes beauty and performance to a new level.
Burlington, VT and New York, NY (PRWEB) July 10, 2014
Premium luxury bicycle brand Budnitz Bicycles is proud to announce the launch today of the Budnitz New Model No.3, the latest edition of their ultimate all-around city bicycle.
With available brushed titanium frame, sexy curves, and aggressive styling, the New Model No.3 is among the fastest, lightest, and most elegant city bicycles in the world. Completely re-engineered from the ground up, the world's best go-anywhere, do-anything bicycle for aggressive city cycling just got even better.
"This Budnitz New No.3 is an evolution of our most popular all-around city bicycle," says founder and designer Paul Budnitz. "After two years of testing and engineering, the New Model No.3 takes beauty and performance to a new level."
The new No.3 twin-tube single arc cantilever frame now features an elegant double curved down tube that increases lateral stiffness for speed, while absorbing road shock for comfort. The available titanium frame weighs just 3.6 pounds.
Big 29-inch wheels and up to 2.35-inch tires, combined with a long wheelbase and aggressive geometry, make Budnitz Model No.3 equally at home on pavement, cobblestones, rough asphalt, and dirt. Jump curbs, cut corners, and fly smoothly over rocks and potholes.
A clean and silent carbon belt drive weighs less than a third of a traditional bicycle chain, and won't get your pants dirty. Singlespeed, or your choice of Shimano or Rohloff internal transmissions with up to 14-speeds with a massive 526% gear range.
The New Model No.3 features Budnitz proprietary titanium riser handlebars, seatpost, stem, and badges. Optional Formula hydraulic brakes from Italy. Top-of the line components from Paul, da Vinci, Thompson, and more. Built to last a lifetime.
Budnitz New Model No.3 pricing is $2595 for the steel version and $4795 for titanium.
"Creating gorgeous everyday objects that function perfectly transforms the world. A bicycle should be as beautiful as a vintage car," says Budnitz.
The Budnitz Bicycles web store features high-end urban bicycles, handmade parts, apparel, and signed bicycle artwork by world-renowned illustrators and artists.
Budnitz Bicycles are sold exclusively online at http://budnitzbicycles.com.
ABOUT BUDNITZ BICYCLES
Budnitz Bicycles (http://budnitzbicycles.com) creates the fastest, most beautiful, and most elegant urban bicycles in the world. Combining advanced design and top-end components with founder Paul Budnitz' eye for detail, Budnitz Bicycles makes striking, lightning-fast titanium & stainless steel bicycles that are built to last a lifetime. Budnitz Bicycles was founded in 2011 and is based in Burlington, Vermont, with offices in New York City.
ABOUT PAUL BUDNITZ
Paul Budnitz is well known as the founder of Kidrobot, the world's premier creator of art toys, fashion apparel & accessories. Budnitz' obsession with creating the perfect urban bicycles lead him to found Budnitz Bicycles in 2011.
Budnitz art directed virtually every Kidrobot & Budnitz Bicycles product; created Dunny and many other signature platform toys; and has designed retail stores, nightclubs, apparel, and bicycles. Over a dozen Budnitz designs are part of the collection of the Museum of Modern Art in New York City. He has worked with designers from Shepard Fairy to Frank Kozik to Marc Jacobs, and brands including Nike, Hermes, Volkswagen, and many others.
In 2010, Budnitz authored I AM PLASTIC, TOO, his 2nd book on designer toys and The Hole in the Middle, a children's book published by Disney/Hyperion. Budnitz is the director of two award winning feature films. He is also an accomplished software designer, and is currently creating children's apps for Callaway Digital Arts.
Budnitz speaks on innovation & creativity worldwide and blogs at http://paulbudnitz.com. He lives in Burlington, VT and New York City and owns 50 pairs of size 13 sneakers.
CONTACT
Budnitz Bicycles
mailto:press(at)budnitzbicycles(dot)com
+1 802-557-0507 x 3
http://www.budnitzbicycles.com
Facebook: Budnitzbicycles
Twitter: @budnitzbicycles
Ello: @budnitzbicycles