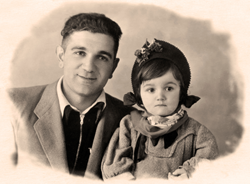 Benjamin had indisputable proof that he really came from the same lineage as his grandmother and finally felt like he belonged to his family.
San Francisco, CA (PRWEB) July 10, 2014
Unraveling life's mysteries can intrigue, amaze, and bring a family closer together. The Archer Family purchased a DNA test to unravel the historical information contained within DNA, but ended up with a lifetime of memories, sharing, and closeness. In fact, the surprising discoveries contained within the family members' DNA genuinely brought the family closer together.
Recently, the family had decided to search deeper into genetic history and prior to taking the genetic ancestry test, thought that they had known the majority of the history. The family thought that the test may fill in some missing pieces, but, after taking the test, the Archer family was stunned by the results. The intensified bond it formed between a Grandmother and her Grandson, and the content it provided to spend hours in dialogue, conversation, and reminiscence, made the Ancestry DNA Test a conduit for quality family time.
Mia Archer grew up believing that her family was English on the paternal and maternal sides. Her parents had talked about the family history and the immigration of her parents, who left England to reach America. Mrs. Archer had a profound interest in genealogy and after enduring the deaths of both parents, Mrs. Archer did some research into DNA genetic companies and contacted DNA Spectrum.
Mrs. Archer ordered a DNA ancestry test from DNA Spectrum and the results shocked her! Mia's great grandfather had always said he was Spanish and the whole family had always thought he was kidding. Her fifth genetic marker was Spanish so her Great Grandfather had been correct. Mrs. Archer's primary linage markers came back as Northern European, Russian and Polish, but not English. The overall details in the results, though surprising at first, also made her very happy. Somehow, it made Mrs. Archer realize that the world was a smaller place and it made her feel more connected to other people in different continents, countries, and cities.
Being so pleased with what her test results, Mrs. Archer encouraged her husband, son-in-law and, after much persuading, her grandson to take a genetic ancestry test from DNA Spectrum. Their experiences were somewhat similar to hers and added an incredible depth and diversity of genetic information to discuss and share among one another.
Robert Maynard, Mia's husband, was told that he was Irish throughout his life. However, the DNA Spectrum test results discovered that his primary linage was Hispanic Spanish. Her son-in-law, James George, was not surprised by his results. He was raised believing he was German and Jewish, which is what his test results confirmed.
Mia Archer had raised her grandson, Benjamin Baldwin, since infancy. Neither Mia nor Benjamin had ever known the identity of his father. Having had to persuade Benjamin to take a genetic test, Mia had thought he was concerned about what the results would reveal in regards to his father's parentage. Benjamin believed that his father was Puerto Rican or Brazilian. It wasn't until Benjamin's results came back that he was able to articulate why he really hadn't wanted to take the test.
All of his life, Benjamin had doubted that he had genetic ties with Mia; he always wondered if maybe he had been found on a doorstep. This uncertainty had plagued him for years and he could never bring himself to tell his family his worries. When Benjamin's results were revealed, his lineage markers were North European, Russian, Polish, Brazilian and even Spanish, very similar to his Grandmother's. Relief overwhelmed him! He had indisputable proof that he really came from the same lineage as his grandmother. Ben finally felt he belonged to his family.
Having such a significant experience with DNA Spectrum's genetic testing products, Mia recommends that everyone should take a genetic ancestry test. She hopes that one day, through DNA testing, everyone will be able to find a family connection around the world. She was so very happy with her family's discoveries and the closeness it created between Benjamin and his grandmother. Mrs. Archer believes that no matter what your parents or grandparents have told you, you may find there are still a few surprises in your ancestry, which even they didn't know about.
About DNA Spectrum
Every person's DNA stores an incredible amount of valuable information. This knowledge is only as relevant as the tools available to understand and unravel the mysteries hidden within the genetic sequence. The vision of DNA Spectrum is to uncover the information contained within a genome and present the findings in a format that is easy-to-understand, meaningful, and life changing.
DNA Spectrum meets the discerning demands of genetic testing clients today with DNA ancestry and private storage services and support. Later this year, DNA Spectrum will release the first DNA lifestyle genetic products, enabling individuals to make positive life changes in fitness, diet, and exercise. With DNA Spectrum as a partner, customers and researchers will be at the forefront of genetic breakthroughs for generations to come and will be able to access all genetic needs through one online marketplace.
Media Contact
Paul Yates
1.800.471.6164