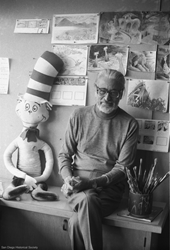 The whimsical fun-filled exhibit will include family-friendly activities based on themes of Literacy, the Environment, Family, and the Community.
(PRWEB) July 10, 2014
The San Diego History Center, located in Balboa Park, will launch its 2015 Centennial Celebration year on Friday, November 21, 2014, with a marquee exhibition celebrating San Diego's renowned local author, Theodor Geisel. Entitled INGENIOUS! The World of Dr. Seuss, the exhibition, developed in cooperation with locally-based Dr. Seuss Enterprises, L.P. and Chase Art Companies, will feature artwork by Geisel, some inspired by San Diego locales. This whimsical fun-filled exhibition will also include family-friendly activities based on Dr. Seuss books' underlying themes: Literacy, the Environment, Family, and Community.
"Dr. Seuss Enterprises is proud to bring this exhibition to Ted's home for the people of San Diego to enjoy," said Susan Brandt, President of Dr. Seuss Enterprises, L.P. "Many locals know that Dr. Seuss lived here, and while they have read his books many have not yet seen his art. This exhibition will show the community another fantastical side of Dr. Seuss."
"The History Center is proud to announce that the Navarra Family and Jerome's Furniture are the Presenting Sponsors of INGENIOUS! The World of Dr. Seuss," stated History Center Executive Director, Charlotte Cagan. "Through this generous sponsorship, the History Center will present this signature offering as part of our 2015 Centennial Celebration."
"Jerome's Furniture is honored to be the Presenting Sponsor of this unique exhibition celebrating Dr. Seuss and his connection to Southern California, families, and literacy," stated Jerry Navarra, the company's chairman and namesake. "We are particularly pleased to underwrite the launch of this exhibition in 2014, our 60th anniversary year. As a longtime San Diego family business, we support this family-friendly exhibition celebrating the work of Theodor Geisel, a fellow San Diegan, as our gift to the community and as part of the 2015 Centennial Celebration of our beloved Balboa Park. ""I read Dr. Seuss books to my children, and now I read them to my grandchildren, "continued Jerry. "They inspire and teach in such a fun way."
In describing the exhibition, Cagan stated, "This exhibition is a unique two-fold presentation: We will feature the artwork of Theodor Geisel, particularly works inspired by our locale, providing an exceptional opportunity to showcase him as a serious San Diego artist; and we will create a dynamic, immersive family experience inspired by the whimsically creative books of Dr. Seuss."
A Dr. Seuss reading nook will feature weekend readings by celebrity readers. Representing the Navarra family, Annie Navarra stated, "I eagerly join with my family in support of this exhibition of the world's most celebrated author. The Navarra family has been part of San Diego history since the beginning of the last century. I look forward to participating in the Weekend Story Hour along with other outstanding members of our community, kicked off by my brother Jerry."
Other celebrity readers include Mayor Kevin Faulconer, SDG&E Chair Jessie J. Knight Jr., UCSD Extension Dean Mary L. Walshok and a duo reading by former Mayor Jerry Sanders (now San Diego Regional Chamber of Commerce head) and his wife Rana Sampson, a Union Bank official.
The History Center's CELEBRATE SAN DIEGO! exhibition line-up also includes: Masterworks of the Exposition Era, featuring renowned artwork displayed at the 1915 Art Exhibition; San Diego Invites the World, a multi-media commemoration of the 1915 Exposition; and a new documentary film on the History of Balboa Park, funded in part by the San Diego Tourism Authority (SDTA) and the San Diego Tourism Marketing District.
ABOUT DR. SEUSS
Theodor "Seuss" Geisel is quite simply the most beloved children's book author of all time. Winner of the Pulitzer Prize in 1984, an Academy Award, three Emmy Awards, three Grammy Awards, and three Caldecott Honors, Geisel wrote and illustrated 44 books for children. Hundreds of millions of copies have found their way into homes and hearts around the world. While Theodor Geisel died on September 24, 1991, Dr. Seuss lives on, inspiring generations of children of all ages to explore the joys of reading.
ABOUT DR. SEUSS ENTERPRISES, L.P.
The primary focus of Dr. Seuss Enterprises, L.P. is to protect the integrity of the Dr. Seuss books while expanding beyond books into ancillary areas. This effort is a strategic part of the overall mission to nurture and safeguard the relationship people have with Dr. Seuss characters. Theodor Seuss Geisel (Dr. Seuss) said he never wanted to license his characters to anyone who would "round out the edges." That is one of the guiding philosophies of Dr. Seuss Enterprises. Audrey S. Geisel, the widow of Dr. Seuss, heads Dr. Seuss Enterprises as CEO.
ABOUT JEROME'S
Founded in 1954, Jerome's Furniture is a family-owned and operated business headquartered in San Diego, California with nine showrooms and eight clearance centers located across Southern California. The 10th Jerome's location will open in Anaheim this fall. Jerome's currently employs more than 530 people. Regarded fondly by generations of families, Jerome's is known as the best furniture retailer for value ("Jerry's Price') and a wide selection of products and services such as same-day delivery, interior design services, and financing. More information can be found by visiting http://www.jeromes.com
ABOUT THE SAN DIEGO HISTORY CENTER
The San Diego History Center, which operates its flagship museum in Balboa Park as well as the Junípero Serra Museum in Presidio Park, tells the diverse story of our region―past, present, and future―educating and enriching our community, preserving our history and fostering civic pride. The History Center was founded in 1928 and is one of the oldest and largest historical organizations in California. It is one of only a handful of institutions nationwide that is dedicated to celebrating the heritage of a major American city.
Admission to both museums is: $8, $6, and $4. Children under 5 are free.
Stay connected with us! http://www.sandiegohistory.org, facebook.com/sandiegohistorycenter, @SanDiegoHistory
###