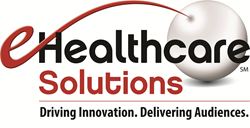 Ewing, NJ (PRWEB) July 15, 2014
eHealthcare Solutions (EHS) is proud to announce it has signed a two year agreement with SERMO as a partner in its Healthcare Professional (HCP) network. SERMO is the leading social community of fully verified, licensed physicians in the U.S. with over 270,000 U.S. Physicians. SERMOS's audience encompasses 40% of all physicians in the United States and will expand EHS' reach to authenticated physicians. SERMO also will enable EHS to meet advertiser demand for access to targeted HCP audiences by specialty.
RJ Lewis, CEO, eHealthcare Solutions said, "I'm very pleased to bring SERMO into the EHS network of online resources for healthcare professionals. SERMO has strong brand recognition as the leading social physician community for medical crowdsourcing and clinical collaboration, healthcare thought leadership, and learning throughout the medical world."
Barron Hirsch, VP, Audience Partnerships, eHealthcare Solutions stated, "Physicians use SERMO regularly to consult with one another across 96 medical specialties and sub-specialties. Physicians post difficult cases and discuss diagnoses and treatments in real time as well as participate in discussions about the business and practice of medicine. SERMO solidifies EHS' leadership in providing advertisers access to targeted, authenticated healthcare professionals."
Peter Kirk, CEO of SERMO said, "Partnering with eHealthcare Solutions – with their advertising expertise, reach and resources – enables advertisers to engage with physicians where physicians really engage, in a trusted social space."
About SERMO
SERMO is the US's leading social network for physicians. With over 270,000 verified U.S. physicians from 96 specialties and subspecialties, SERMO facilitates clinical collaboration, knowledge sharing and discussion throughout 40 percent of the American medical community. Sermo is a meeting of medical minds; it's the virtual meeting place for physicians where they are free to engage with other physicians regarding everything that's important to them in the business and practice of medicine.
Founded in 2005, SERMO's vision is to provide physicians with a safe, private and trusted platform for free and open discussions. By harnessing the collective wisdom of physicians to solve patient cases, SERMO also enables medical crowdsourcing and thus the accelerated advancement of medicine. To learn more about Sermo, visit http://www.sermo.com.
About eHealthcare Solutions
eHealthcare Solutions creates custom digital solutions that achieve specific marketing goals and engage defined target audiences. EHS partners with marketers who want to reach physicians, other healthcare professionals, and health consumers through its exclusive relationships with more than 75 of the leading healthcare professional societies, associations, and media companies, consumer health sites, and other quality digital partners. EHS is an expert in digital healthcare marketing with decades of collective experience building programs that drive results and deliver maximum brand impact.
The EHS Physician/HCP Network is ranked #1 for digital reach to Physicians/HCPs, with nearly 4x the reach of the closest competitor (comScore, February 2014).
# # #