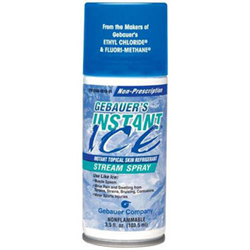 Philadelphia, PA (PRWEB) July 10, 2014
More than 10 million sports injuries occur every year, and 95 percent of those involve soft tissue, injuries like bruises, strains, or sprains. This is why Orthoco offers Gebauer's Instant Ice Stream Spray, which helps ease the pain of injuries. Gebauer's Instant Ice Stream Spray has similar effects to putting ice on parts of the body that have been injured, but without having to carry around an ice pack all day. The convenience and other benefits of the spray is why Orthoco endorses its use for athletes as well as patients rehabbing from an injury.
Gabauer Instant Ice Spray is available at Orthoco for $29.00 per can plus shipping:
http://bit.ly/1jerq1W
The Gebauer Company is an internationally recognized manufacturer that produces affordable and easy-to-use products. According to the manufacturer, the Instant Ice Stream Spray is a topical skin refrigerant. The spray can be used for: muscle spasms, minor pain, swelling from sprains, strains, bruising, contusions, and minor sports injuries. The Gebauer's Instant Ice Stream Spray comes in a 3.5oz can, is not flammable, and does not require a prescription.
According to recent articles, Jim Ramsay, head athletic trainer for the New York Rangers hockey team, has been using Gebauer topical skin refrigerants for years. He says, "Instant Ice is great for on-the-scene care. If a player gets hit on the wrist or takes a puck off the shin, I can easily anesthetize the area with Instant Ice to reduce the pain, allowing the player to get back in the game quickly." The Gebauer's Instant Ice Stream Spray is becoming more popular for treating minor injuries especially among high school and college coaches and recreational teams all around the country.
The Gebauer Company says the spray can be stored at room temperature, a convenient feature as opposed to keeping an ice pack in the freezer. The Gebauer Company also suggests not spraying near the face or on open wounds or on abraded skin. Those who have a history of hypersensitivity to 1,1,1,3,3-Pentafluoropropane, 1,1,1,2-Tetrafluoroethane, or who have diabetes, poor circulation, or insensitive skin should not use this product and if skin irritation develops, discontinue use. The Gebauer Company says to not over apply the product because it might alter skin pigmentation.
Orthoco, Inc. (Established in 1995)
Orthotics, Durable Medical Equipment, Clinical Office Supplies and Equipment.
OrthoCo, Inc. provides clinicians and patients with the finest quality, cost effective medical supplies and equipment available. OrthoCo continues to provide useful products and information assistance to patients, occupational and physical therapists, physicians, chiropractors, and massage therapists.
We understand the important purpose of the products we carry; and the role they play in assisting in patient recovery. OrthoCo strives to provide the best products, because their performance is integral to the successful, timely recuperation of the patient.
OrthoCo, Inc.
1445 City Line Ave, Suite 6B
Wynnewood, PA 19096
Web: http://www.orthoco.com
Toll-free (in U.S.): 1-888-422-4777
Phone Number: 856-795-6900
Fax Number: 856-795-6922
Our Email Addresses
Sales: sales(at)orthoco(dot)com
General: info(at)orthoco(dot)com