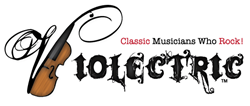 Orlando, FL (PRWEB) July 09, 2014
From philanthropic endeavors and famed musicians to coveted events and corporate galas, the rockin' violins of Central Florida-based strings superstar groups "Violectric" and "Fretless Rock" are keeping a sizzling pace this summer highlighted by exciting performances near and far including opening for Huey Lewis and the News in South Florida, closing out the Miller/Coors convention in the British Virgin Islands, playing at the McDonald's worldwide convention with guest performances by Sting, Adam Levine, Ne-Yo and David Foster and providing lead strings in the special Kids Beating Cancer all-kid choir's music video "My Own Hero" shot in Orlando and to be released internationally this year featuring numerous legendary stars. Plus, the groups recently showed off their talents to former Governor Charlie Crist and took center stage at Bite Night Orlando and at a recent Mall at Millenia event.
Led by esteemed strings musician Michelle Jones (a.k.a. the Vinylinist), the electric string quintet plus keyboards and drums known as Violectric, and the captivating female string trio and quartet and recent "Best of Weddings" award recipient known as Fretless Rock, are the striking and the talented strings performers known throughout the city and state. Their custom arrangements of classic and modern rock tunes like Billie Jean, Born to Run and Moves Like Jagger cannot be heard anywhere else.
"We are beyond thrilled and humbled by all the incredible opportunities that have come our way in just the past few months," says Founder of Violectric and Fretless Rock Michelle Jones. "We pride ourselves in providing a very unique, professional and highly entertaining musical experience. Whether the need is for classical musical styling or our signature rock style, we have the capability to provide memorable musical entertainment for any audience. We cannot wait to keep the exciting pace going and share our special gift of music with many more new audiences in the near future."
For all the latest news on performances, upcoming tours and happenings with Vinylinist, Fretless Rock and Violectric, visit http://vinylinist.com, http://stringsetc.net and http://violectric.net and contact 407-434-1261 for booking inquiries.
MEDIA CONTACT: Ilene Lieber, 321-277-7812, ilene(at)passionprconsulting(dot)com