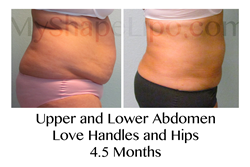 This has literally saved my life and given me the motivation to keep going.
Las Vegas, NV (PRWEB) July 10, 2014
You've probably heard it before that liposuction is not for weight loss and you should be at your ideal weight before undergoing a procedure. The story of Betty Smith offers an alternative point of view for large volume liposuction as she claims the procedure has saved her life.
At MyShape Lipo, a specialty liposuction clinic located in Las Vegas, NV, Betty underwent a series of 3 liposuction procedures to remove nearly 18 liters of fat from her body. Each of the procedures were done under local anesthesia with at least one week in between. She was able to walk out of the procedure room on her own with minimal discomfort. There were no complications and she was able to get back to work in between each of the procedures.
Betty is a 45 year old mother of 3, who has neglected herself for nearly 20 years as she was taking care of her children. She has suffered from depression in the more recent years. She is 5 foot 4 inches tall and weighed 195 pounds prior to her procedure. Nearly 3 months after her procedures she now weighs 165 pounds and is still working hard at her diet and exercise program.
"I suffered from depression for many years, which led to the majority of my weight gain. Then I was more depressed because I didn't look the way I wanted to," says Betty. "I tried diet and exercise, but it seems like I've been waisting my time because I've been at a stand still despite all of my efforts."
"Betty has a similar story to many women that I have treated," says Trevor Schmidt PA-C the liposuction specialist at MyShape Lipo. "It seems like when some women get to around 40 years old, their hormones change and the diet and exercises that may have worked for them previously, doesn't seem to have the same results. That is usually when they seek our services to help them get over the hump."
Much of Betty's depression was due to her body image issues, which she states has led to suicidal thoughts. After her procedures she has lost nearly 30 pounds, but more importantly, she felt better and was motivated to continue her diet and exercise plan.
"I can't tell you how happy this has made me feel," says Betty. "I've tried for years to do what Trevor was able to accomplish in 3 short lipo procedures. This has literally save my life and given me motivation to keep going. I feel much more confident and now I've got my motivation to hit the gym hard to reach my goals."
"We are all so happy for Betty," says Schmidt. "Her reaction of improved confidence and motivation are actually quite common after large volume liposuction. It truly changes the way these people live their lives going forward. It's almost like they are able to start down a different path as a new person more confident and motivated to accomplish their goals."
Large volume liposuction is a controversial subject, but if performed by an experienced surgeon, it can be done safely. It's typically recommended to stage the procedures at least one week apart for safety reasons. Large amounts of fat can be removed safely, which will equate to weight loss, but more importantly a slimmer shape and better attitude.
About MyShape Lipo
Trevor Schmidt PA-C is the owner and liposuction specialist at MyShape Lipo, who has the experience of over 15,000 liposuction procedures. They specialize in liposuction and fat transfer procedures. Located in the Las Vegas, NV area, patients fly in from around the globe for their unique skill set and extensive experience. They offer a complimentary "Body Shape Analysis," simply call today to schedule, 702-818-5476.