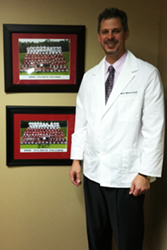 Atlanta, GA (PRWEB) July 09, 2014
Dr. Randolph Moore now provides dental implants for Atlanta patients that give new hope to the more than forty percent of people over the age of forty-five who have lost one or more teeth. With leading technology in dental implant placement, Dr. Moore uses Cone Beam 3D Imaging for determining the optimal location. The use of the 3D imaging system allows Dr. Moore to assess the situation with precision and place the implants in the position that will make them most effective for holding the dental implants.
The dental implants that Dr. Moore provides for his patients allow them to enjoy a full range of diet without the restrictions that temporary dental appliances impose. With titanium implants that bond with the bone in a process called osseointegration, the implants become a permanent, functional part of the patient's mouth.
Using the revolutionary Cone Beam 3D Dental Imaging System, the dental implant placement that Dr. Moore provides is more precise. The Cone Beam 3D Dental Imaging System features a rapid scan that completes in just seconds and limits the exposure to radiation to a tenth of traditional x-rays.
The dental implant placement that results from the Cone Beam scan takes into account each patient's unique structure of nerve and bone placement. With the precision provided by the 3D scan the doctor will prepare the area with a local anesthetic to numb the area. Most patients find that they recover rapidly with little discomfort after the placement of the dental implants.
For more information about dental implants available to Atlanta residents and the revolutionary new techniques used by Dr. Moore, visit the web at http://www.smilemooredentisty.com. See how dental implant placement can be planned with precision with the Cone Beam 3D Dental Imaging System.
About the Doctor
Dr. Randolph S. Moore is a general dentist offering personalized dental care for patients in the Buford, GA area for over 20 years. Dr. Moore received his degree from the University of Alabama in Birmingham, and completed his residency at the Veterans Hospital in Birmingham. Dr. Moore is active in the dentistry field and is a member of the Georgia Dental Association, the American Dental Association, American General Dentistry, American Academy of Cosmetic Dentistry and ICOI (International Congress of Oral Implantologists). To learn more about Dr. Moore and his dental services visit their website at http://www.smilemooredentistry.com/, or call (770) 545-6141.