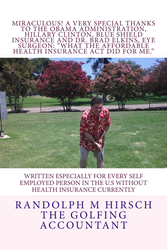 "Mr. Obama hooked me up! Now I need Your help to spread the word. Help me get the book to libraries, schools, small business owners, Health Insurance agents and anyone self employed."
Tarzana, CA (PRWEB) July 10, 2014
After five years of waiting and suffering with poor vision and cataracts disease, and unable to get affordable Health Insurance coverage, 48 years "young" self-employed business owner, screenwriter, author, film maker, biographer, accountant, golfer and movie fan Randolph M. Hirsch finally said to himself: "This is the year to get things done."
For years, because of a pre-existing condition and unable to afford the expensive insurance rates that were being quoted to him, and being turned down by the big insurance companies, Randy contacted a friend asking for a referral to a local Health insurance agent.
At the last minute, Randy enrolled in the affordable health care covered plan, on the due date of April 15th, 2014 and was fully covered!
The miraculous, important, touching and very informative story of how Obama Care affordable health coverage helped a small business owner, weekend dad to get insurance and the life changing cataracts eye surgery that he needed.
This book is for every person in America who is self employed and doesn't have any insurance coverage yet.
Dedicated to and written especially for all self-employed people and small business owners across the country who currently don't have any health insurance coverage.
This book is specifically targeted to:
Self employed people across the country
Small business owners in the USA
Independent Insurance Agents all across this great country of ours wanting to offer the Obama Care Health plan and insurance coverage to their self employed clients
Any part-time or full-time employees who work for small business owners that don't offer any Health Insurance benefits
Golfers and Accountants Nationwide who are interested in Affordable Health Insurance coverage!
Anyone who has had a recent medical scare or procedure done, that didn't have any insurance -- and does not want to go through anything like that again --without proper Insurance!
Any person suffering from Cataracts disease or other illnesses, who cannot afford the necessary treatment or surgery and doesn't have proper Health Insurance coverage.
Worldwide Book promotion Marketing campaign Launched on July 4th.
"Mr. Obama hooked me up! Now I need Your help to spread the word. I'm dedicating the next year of my life to promoting this book and the Obama Care Affordable Health Insurance and Protecting Patient's rights Act. Help me get the book to libraries, schools, Health insurance agents, people in the media, Talk shows, radio shows, self employed people and small business owners nationwide!"
Feel Good Story of the Year
For Phone interviews, public appearances, speeches and book signings, Contact author and publisher Randy Hirsch through:
Moshe Publications, Inc.
Toll-free # (855) 333-6897 or (818) 908-4083
EMAIL: MoshePublications(at)gmail(dot)com
For your copy of the book: http://www.A-Very-Special-Thanks.com
Main Publishing company's website: http://www.MoshePublications.com