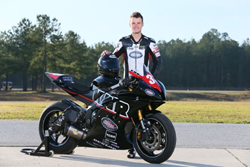 I will be giving it my all this weekend in his honor and I hope to make him proud.
Plymouth, WI (PRWEB) July 10, 2014
Days before he is scheduled to participate in this weekend's pro road race events at Mazda Raceway Laguna Seca in Monterey, CA, Millennium Technologies sponsored racer Kyle Wyman has undergone a successful surgery to his right knee. The procedure was carried out in California to remove leftover fragments left in Wyman's knee from old injuries.
The procedure is just the latest for Wyman who has underwent 10 operations in only five years on the same leg after suffering spiral fractures of his tibia, fibula, and tibia plateau in a 2009 AMA Pro qualifying session at Daytona International Speedway. Despite the frequency of these operations, Kyle Wyman has remained steadfast in his desire to compete.
"It seems like routine to have gone back in for surgery on this leg, but I think we are in a really good place now," Wyman said. "This was the most minor operation that I've had, and it was more of a fine-tune type of procedure. I'm glad I had it done because they discovered another issue with it once they got in. I'm looking forward to the increased range of motion that will come from the operation."
Though optimistic, Wyman acknowledged that the surgery would play a factor in his back-to-back scheduled events, the first of which being this weekend at Mazda Raceway Laguna Seca. Wyman then travels to the Mid-Ohio Sports Car Course the following weekend. Wyman will once again compete in two classes at each of his scheduled events aboard his Millennium Technologies/Kyle Wyman Racing motorcycles.
"It's going to be sore, that's for sure," Wyman said after his surgery, "It's very swollen and tight today, but I'm going to do everything in my power to control the swelling over the next two days and try to minimize the effect over the weekend. It is what it is, so either way I'll show up as ready as I can be and give it my best effort."
Despite being forced to overcome the obstacle of a sore, post-surgery knee, Wyman will retain plenty of drive during his Laguna Seca events having dedicated them to his late grandfather, Harvey C. Rousseau, who passed away this last June. Wyman has been given special allowance to run his grandfather's competition #11 in place of his usual #33.
"Grandpa Harv ran #11 throughout his whole car racing career," Wyman explained. "He was a strong, resilient man who I respected to no ends for what he overcame in his life. I couldn't think of a more fitting time to run his number than while being up against this knee surgery. I will be giving it my all this weekend in his honor and I hope to make him proud."
The Mazda Raceway Laguna Seca events will not be aired on Fanschoice.tv this weekend. Stay up-to-date with the weekend's events follow Kyle Wyman's Facebook page at http://www.facebook.com/kylewymanfans.
To learn more about the technology housed within Kyle Wyman's Millennium Technologies/KWR racing machines, visit http://www.mt-llc.com.