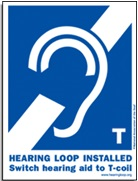 Houston, TX (PRWEB) July 09, 2014
The Center for Audiology is proud to promote hearing loops as its preferred assistive listening system of choice, with their new "Houston: Get in the Hearing Loop!" campaign. They encourage Houstonians with hearing loss and/or other interested parties to join in the grassroots effort to lobby public facilities around Houston to install hearing loops.
With incidences of hearing loss on the rise, it only makes sense that airports, theaters, auditoriums, houses of worship, meeting rooms, etc., accommodate this population. Even with the most up-to-date technology, hearing aids cannot completely separate important sounds from background noise; nor do they pick up all sounds from a distance.
In such settings, hearing (induction) loops can offer a solution. A hearing loop wirelessly transmits sound to an antenna, called a telecoil in a hearing aid. Much like Wi-Fi, a hearing loop connects the user wirelessly to the public sound system, a home TV, or other sound source. It allows for those with telecoil-equipped hearing aids to have crystal clear hearing anywhere in the looped facility without the need for dated technology such as FM or infrared assistive listening systems. All the hearing aid user has to do in a looped environment is a simple push on a button to switch the hearing aid to telecoil mode.
Facilities around the U.S. are joining in the national "Get in the Hearing Loop" campaign. New York City announced that all its future new taxis will have hearing loops, as do its 450+ subway booths (thanks to a recently completed project funded by federal stimulus monies). Many Broadway theaters and NYC museums are now looped. New York City-based hearing advocate Janice Schacter helped spark these projects as part of her effort to promote hearing loops worldwide.
In Michigan, the Kalamazoo/Battle Creek Airport and Grand Rapids Airport have looped concourses and individual gate areas, enabling announcements such as boarding instructions and delayed flight explanations to broadcast directly into telecoil-enabled hearing aids.
Dr. Sara Nagel, audiologist and owner of The Center for Audiology in Houston, wants to see hearing loops expand to Houston.
"Too many of my patients have stopped attending theater or other venues simply because they miss too much of the dialogue," said Dr. Nagel. "For these public venues, not only is installing hearing loops good customer service, it is good business."
For more information about hearing loops, or to set up a demonstration, please contact The Center for Audiology at 713-255-0035, or visit them on Facebook at https://www.facebook.com/pages/The-Center-for-Audiology/1439231889649263?fref=nf.
About the company:
The Center for Audiology was established in 2008 with the goal of providing the best in hearing healthcare to the people of Houston and surrounding areas. Along with evidence-based practice and superior customer service, The Center for Audiology's mission includes community outreach and service to encourage early diagnosis and treatment of hearing loss. Dr. Sara Nagel and Dr. Shelby Seeberg have a combined 19 years of experience in treating hearing loss and share a passion for improving quality of life through better hearing.