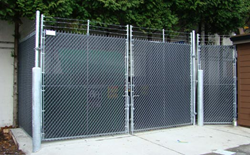 At QS Fencing, we want our customers to be completely satisfied with our services.
Vancouver, BC (PRWEB) July 10, 2014
QS Fencing has recently announced the launch of its specialized residential fence services. These services include expert installation, using one of the most professional and highly skilled workforces in the industry of fencing. The company also provides 24/7 repair facilities for its clients in order to enhance the customer service extended to the clients. QS Fencing aims to provide security and comfort for residents to give them superior protection from threats of theft and robberies. Beautiful, yet functional, fences by QS Fencing also protect clients' privacy from habitual or occasional privacy invaders.
Types of Residential Fences
QS Fencing offers a wide array of fences for all kinds of purposes. Some of the most popular varieties of fencing include chain-link fencing, which is being used widely all across Canada. Old-school and classy wrought iron fences are still in vogue, as many clients are still using this traditional material for beautiful and practical security needs.
As far as attractiveness is concerned, QS Fencing's line of ornamented fences is in high demand. Ornamental aluminum fences look perfect for residential properties; however, they are known to add the extra glamour for a commercial property as well. Not as light-weight as aluminum but just as convenient, steel fence panels also help in securing commercial as well as residential property.
Quality of Fencing
"At QS Fencing, we want our customers to be completely satisfied with our services," states a representative of QS Fencing. "Our primary goal is to consistently excel in quality service providing you with the best fencing options to choose from."
Regarding customer service and specialized installations he said, "QS Fencing offers a hassle free fence installation and fence repair service. Our customers are guaranteed competitive pricing on the cost of your fence." This statement enhances the company's commitment to offering its clients with the best deal; that is, the best service as the most competitive rates. As a result, QS Fencing is often associated with quality by the customers.
To know more about QS Fencing, log on to the website at: http://www.qsfencing.ca. In order to register for a free estimate on an order of fencing or to get in touch with a company representative, visit http://www.qsfencing.ca.