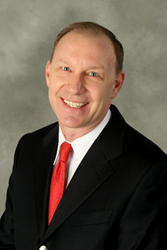 Vienna, VA (PRWEB) July 09, 2014
Dr. William V. Dougherty, III, a dentist near Vienna, VA, offers a number of valuable and effective procedures to patients, including implant supported dentures. The doctor now offers these services to patients from Vienna and the surrounding area. Through the use of the All-on-4™ implant technique, Dr. Dougherty is able to offer patients with limited bone density or volume an affordable and effective solution for the purpose of restoring their smile. According to Dr. Dougherty, the success rate for this procedure is greater than 98 percent when patients return for their four year checkup after having the procedure. This level of success, along with the fact that the All-on-4™ technique may be an effective option for patients with bone density issues, has made this a very popular procedure for patients who wish to avoid wearing traditional dentures.
The procedure offers a solution to a common problem in the United States, as nearly 70 percent of adults in America have lost at least one permanent tooth, and 26 percent of the population aged 74 years or older has lost all of their permanent teeth. These numbers underscore the importance of the availability of an effective procedure such as implant supported dentures that is both affordable and able to be performed even when a patient also suffers from low bone density or volume.
Patients can benefit by visiting a dentist near Vienna, VA who offers implant supported dentures to patients through the All-on-4™ technique. The technique itself is ingenious, as it allows Dr. Dougherty to use only four dental implants that are able to function immediately. The procedure has a number of advantages, including minimal recovery time, lower overall costs, simple oral hygiene and, in most cases, no need for bone grafting. A set of temporary teeth or existing denture are initially used, and once the bone has become fully integrated, the permanent set of teeth are then anchored into place.
Patients seeking a dentist near Vienna, VA who offers the All-on-4™ technique should contact Dr. Dougherty's office for further information or to schedule an appointment for a consultation. He offers a number of services through his office and will likely need to discuss the options that are ideally suited to the individual needs of each patient. In the case of patients with areas of low bone density or volume, it may be the case that the All-on-4™ technique is indeed an effective option.
About the Doctor
William V. Dougherty, III, DDS is a general dentist offering patients personalized dental care in Falls Church, VA. He is part of one percent of dental professionals providing the LANAP® FDA cleared laser procedure for gum disease and periodontal treatment. To learn more about William V. Dougherty, III, DDS and his dental services, visit his website at http://www.doughertylaserdentistry.com and call (703) 584-7554.