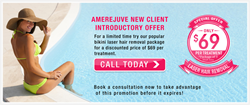 Houston, TX (PRWEB) July 10, 2014
Sun protection and safety is always important in the summer, but that goes double for men and women getting Houston laser hair removal treatments.
Statistically, complications for laser hair removal and intense pulsed light (IPL) treatment increase during the summer months. Small laser hair removal providers may not remember or realize to check the medical and technical issues that can cause these complications. Amerejuve MedSpa, with 10 locations in the Houston area all staffed by state certified technicians, is careful to follow these important safety guidelines.
For example, a person who is on photosensitizing medication or antibiotics should never receive a laser hair removal treatment while actively taking the medication. Amerejuve also checks on the client's skin products, some of which may react to the treatment. A reputable MedSpa would also never perform laser hair removal on a client who is pregnant, as the effects of laser hair removal on pregnancy have not been adequately studied to ensure safety.
"Safety is a top priority at our clinics. That's why we have gold standard equipment, and all of our technicians are certified and required to take continuing education courses and training," said Vincent Chitolie, Amerejuve COO.
Laser hair removal is a safe procedure when performed correctly by experienced staff with FDA-approved equipment. Amerejuve has all of the above, and more. While there are many reasons to choose Amerejuve for laser hair removal in Houston, below are five of the most popular.
1. Attention to Laser Hair Removal Safety
Amerejuve is careful to confirm information to ensure every client has a safe, effective treatment. Amerejuve strives to educate clients about services and at-home care, and this knowledge is vital to any successful laser hair removal or MedSpa session.
2. Competitive Laser Hair Removal Pricing
Amerejuve uses top-of-the-line laser hair removal equipment from Syneron and Candela, but at prices much lower than other providers. American Laser, Sona MedSpa, Ideal Image, and others charge significantly more for the same service on the same quality of equipment.
3. Excellent Customer Service
Amerejuve's clients often share their experiences online, providing numerous examples of Amerejuve's caring, service-oriented culture. Amerejuve's clinics have top ratings on review sites such as Google, CitySearch, Facebook, and DemandForce.
4. Convenient Locations
Amerejuve MedSpa has 10 locations throughout the greater Houston area, which makes it easy to attend treatments close to work, home, or both. Clinics are also open six days a week to offer maximum flexibility in appointment times.
5. Flexible Treatment Options for Laser Hair Removal
Every Amerejuve clinic is equipped to perform laser hair removal on any skin tone. Alexandrite lasers work best for lighter skin tones, while Nd: YAG is best for darker skin tones. Amerejuve ensures every client can be placed on a laser designed specifically to treat their skin tone, making for safer, more effective results.
To schedule a free consultation for any Amerejuve service, call (713) 960-6262.
About Amerejuve MedSpa and Cosmetic Surgery
Amerejuve MedSpa and Cosmetic Surgery's innovative approach to wellness combines beauty, science and service to fit each client's goals, whether that means esthetic services that are preventative or restorative (correction, reduction or enhancement). Amerejuve's full line of beauty services, which include laser hair removal, body contouring and cellulite reduction, lip enhancement, facial contouring, wrinkle removal, sun spot removal, acne scare repair, and cosmetic surgery, is unparalleled in the medspa industry, and all services are available at affordable prices. Amerejuve is also the only medspa in Houston that offers customer service to clients 24 hours a day, seven days a week via phone or through their website.
With so many locations throughout the Greater Houston Area, Amerejuve has become Houston's number one provider of laser hair removal, cosmetic and non-surgical skin treatments. Medspa services include BOTOX®, RADIESSE®, Restylane®, JUVÉDERM®, ReFirme™, LATISSE®, VelaShape™, CoolSculpting by Zeltiq®, Zerona®, VASER® Shape, Bella Contour, Ultherapy® non-surgical facelift, eMatrix® skin resurfacing and rejuventation, Sciton skin resurfacing, cellulite and circumferential reduction, laser-based skin rejuvenation, skin tightening, microdermabrasion, IPL Photofacial treatments, and chemical peels, all available at Amerejuve's ten state-of-the-art facilities with locations in Galleria, Memorial, River Oaks, Dunvale, Sugar Land, Katy, North FM 1960, The Woodlands, Kingwood, and Clear Lake. Amerejuve's board certified cosmetic surgeons also perform breast augmentation, breast lifts, breast reduction, rhinoplasty, abdominoplasty (tummy tuck), face lifts, eyelid lifts, brow lifts, liposuction, and more.
To schedule a free consultation at any of the 10 Amerejuve locations, please call (713) 960-6262 or visit them on the web at http://www.amerejuve.com.