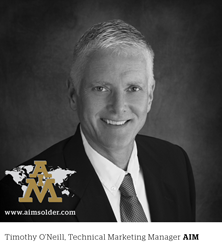 Cranston, RI (PRWEB) July 09, 2014
AIM Solder, a leading global manufacturer of solder assembly materials for the electronics industry, announces that Timothy O'Neill, AIM's Technical Marketing Manager, will present "Understanding No Clean Flux Chemistry and Their Proper Use" at the 2014 SMTA Ciudad Juarez Chihuahua Expo and Tech Forum held in Juarez, Mexico Thursday, July 17th, 2014 at 4:00 pm.
The intention of this paper is to take a closer look at how no clean fluxes are classified as such and the chemistry behind them. The information examined in this paper will give both the engineer and the operator practical knowledge of the benefits and liabilities of using no clean flux technology and detail best practice for their use in a production environment.
Timothy O'Neill is an experienced technical writer and speaker for industry trade publications and events. Since the start of his career in 1994, he has co-authored several white papers on PCB assembly subjects, and is currently working on several projects including an innovative study in collaboration with Brown University.
Additionally, AIM Solder will be exhibiting their complete line of advanced solder assembly materials at the event. For the latest in soldering technology materials and applications advice from AIM Solder, you may register at no cost to attend this event as a VIP Attendee by visiting http://www.smta.org/chapters/rsvp.cfm?BEE_ID=3393.
About AIM
Headquartered in Montreal, Canada, AIM Solder is a leading global manufacturer of solder assembly materials for the electronics industry with manufacturing, distribution and support facilities located throughout the world. AIM produces advanced solder products such as solder paste, liquid flux, cored wire, bar solder, epoxies, lead-free and halogen-free solder products, preforms, and specialty alloys such as indium and gold for a broad range of industries. A recipient of many prestigious SMT industry awards, AIM is strongly committed to innovative research and development of product and process improvement as well as providing customers with superior technical support, service and training. For more information about AIM, visit http://www.aimsolder.com.
Upcoming Events:
July 17, 2014 - SMTA Juarez – Juarez, Mexico
July 17, 2014 - SMTA Ohio Valley – Independence, OH USA
Aug 12, 2014 - SMTA Philadelphia – Cherry Hill, NJ USA
Aug 26-28, 2014 - NEPCON South China Stand #A-1H01 – Shenzhen, China
Sept 30-Oct 1, 2014 – SMTA International Booth #413 – Chicago, IL USA