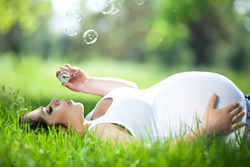 'A good rule of thumb is to avoid things that are designed to kill something else.'
Irving, Texas (PRWEB) July 10, 2014
Summertime is for vacations, picnics and outdoor play. Unfortunately, it is also the time for mosquitoes and other annoying pests. Expecting mothers want to enjoy the summer outdoor activities, but they also want to avoid the pests and stay safe during their pregnancy.
Pesticides get rid of the bugs, however they are problematic for healthy fetal development. The chemicals associated with pesticides can interfere with the development of the baby's central nervous system.
Dr. Brad Imler, President of the American Pregnancy Association states, "A good rule of thumb is to avoid things that are designed to kill something else." He adds, "This principle makes it easy when mothers think about working with herbicides or pesticides."
The good news is that there are steps expecting moms can take to enjoy the outdoors without being pestered by bugs while also remaining safe.
Mothers-to-be can use ceiling and outdoor fans to keep bugs away. Mosquitoes have a difficult time flying in the wind. Placing a fan where it blows under the patio table can help keep mosquitoes from attacking exposed ankles and legs.
Expecting mothers should schedule their outdoor times. Mosquitoes tend to be out from dawn through dusk, with the heavier activity occurring in the early morning and the late afternoon. Women should plan for their outdoor times to fall in the middle of the day, or plan to be outdoors after the sun sets.
Wearing protective clothing is a good way to keep away annoying pests. It is a challenge to wear long pants and long sleeve shirts during the summer, but if you can find some light clothing that covers you up, it will help keep the mosquitoes away. Although not scientifically proven, there are reports that darker clothes tend to attract more mosquitoes.
EPA-registered repellants work well to keep mosquitoes away. Most repellants are considered safe to use during pregnancy. Make sure you read the label and apply in a ventilated area. Apply directly to exposed skin or on clothing, but not on skin under clothing.
Summer is a time of fun and family outdoor time. Don't let mosquitoes and other annoying pests ruin your day. Take advantage of the steps noted above, and get outside and enjoy the sun.
The American Pregnancy Association is a 501(c)(3) nonprofit organization committed to promoting pregnancy wellness through education, advocacy and community awareness.