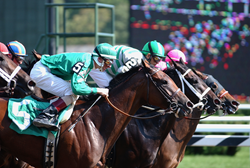 Saratoga Springs, NY (PRWEB) July 18, 2014
Saratoga Springs is famous for its world-class thoroughbred horse racing at Saratoga Race Course. Since the Spa City's first organized race meet in 1863, Saratoga Race Course has welcomed champion thoroughbreds, renowned trainers, celebrated jockeys and famed horsemen – earning it the title of one of the nation's top 10 sports venues from Sports Illustrated magazine. Each year, hundreds of thousands of fans travel to Saratoga Race Course to experience its special combination of elegance, excitement and family fun.
This summer, Saratoga Springs will continue more than 150 years of tradition when the thoroughbreds return to Saratoga Race Course for another thrilling season of world-class thoroughbred racing and 40 days of special events beginning on Friday, July 18 through Labor Day, Monday, September 1. For more information about the 2014 season, visit http://www.nyra.com/saratoga.
But that is just the beginning of the amazing experience. Plan the summer vacation of a lifetime by visiting http://www.ilovesaratoga.us. Win a two night stay, dinner for two, golfing, a spa experience, an evening at Saratoga Casino and Raceway and shopping in downtown Saratoga. There are also other great prizes.
Be enchanted by classical performances at Saratoga Performing Arts Center including the New York City Ballet, the Bolshoi Ballet and the Philadelphia Orchestra. Saratoga Casino and Raceway has live harness racing, slots and electronic table games, live entertainment and fabulous dining options. Test your swing at Saratoga National Golf Course, one of the Northeast's most beautiful, top-rated courses. After a day of golf enjoy dining at Prime at Saratoga National on their gorgeous patio or the inside dining room. In addition to the thoroughbreds and harness horses, polo ponies add excitement to the equine scene in Saratoga. Enjoy the fast-paced action of polo on Fridays and Sundays mid-July through August.
Lodging in Saratoga offers style and affordability. Mid-week get away packages provide ease in planning and offer lodging, Saratoga Race Course admission and a reserved seat, a Post Parade Program and $10 to spend at any concession at Saratoga Race Course (including food and merchandise). Saratoga has great lodging options for everyone, from boutique hotels to country inns to your favorite chain hotel.
Saratoga County Tourism has a great video explaining how you can win our grand prize. Share the video on social networks to be entered for another opportunity to win. The person who shares this video the most will receive a Saratoga gift basket valued at $500. Click here to view.
A social network campaign is asking visitors to check-in at different destinations through Labor Day, 2014. The person with the most Saratoga destination check-ins using #ILoveSaratoga along with the #destination name will also have the chance to win a Saratoga gift basket valued at $500.
Make plans for a Saratoga summer vacation today. Saratoga also offers boutique shopping and gourmet dining along one of America's Greatest Main Streets. Enjoy museums, a National Battlefield, mineral springs, outdoor recreation, great night life and more. Saratoga – where everyone wins!
About Saratoga, New York
Saratoga's attractions and spectacular scenery have made it a premier Northeast destination for centuries. Located approximately three hours from New York, Montreal and Boston, Saratoga features world-class horse racing, the performing arts, gaming, polo, award-winning golf courses, museums – including three National museums, a National Battlefield, Victorian architecture, great shopping, plentiful outdoor activities and so much more.
Visitor information is available online at http://www.ilovesaratoga.us or by calling 1-800-526-8970. The Saratoga County Chamber of Commerce is the official Tourism Promotion Agency of Saratoga County, New York.