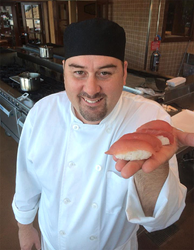 I was able to use my GI Bill for the entire training, including supplies.
Greenwood Village, CO (PRWEB) July 10, 2014
Both military and culinary careers share many of the same elements, including discipline, stamina and the need to work as a team under pressure. Colorado Culinary Academy offers a unique culinary "boot camp" to assist military personnel and veterans' transition from the military into a fun, exciting and fulfilling career in the modern professional kitchen. The short accelerated program is designed to focus on the classic French techniques, with intensive hands-on preparation that begins the very first day of class. Employment options include restaurants, personal chefs, catering, hotel and resort positions, and specialty areas such as pastry, food writing, and food trucks.
"I chose to transition from the military into the culinary field, because I'm passionate about food. I chose Colorado Culinary Academy because of their world-class instructors, great facility, daily hands-on cooking and small class size," said Paul Stanley, U.S. Air Force Veteran and recent graduate. "I was able to use my GI Bill for the entire training, including supplies."
The new Vets To Chefs™ website contains information to make the transition as easy as possible, detailing enrollment procedures and requirements, scholarship opportunities and links to other important resources for Veterans. The website also contains blogs by ex-military graduates illustrating their own exciting journeys from vets to chefs, in just 12 weeks. Events such as Open House, Student For A Day programs and Tours of the facility allow veterans to decide if Colorado Culinary Academy is the right environment for them to start their culinary career.