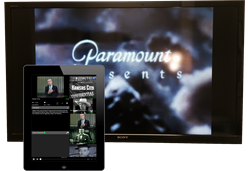 This time around, these old TV programs are potentially even more satisfying by being available on-demand, with built-in social networking and with multiscreen capabilities
San Jose, California (PRWEB) July 10, 2014
AmPopFilms and ILOOK are joining forces to help preserve late night classics of the 1950s, '60s and '70s through modern day media technology that is easily accessible on your mobile device or connected TV.
Devoted to preserving the historical television landscape, AmPopFilms started as a television syndication company, Scott Entertainment Corp., in the mid-1980s. During that time, the company acquired and built an extensive library of old-school, TV programs, eventually selling them to independent TV stations like PBS, and late-night affiliates around the country.
As technology eventually transitioned into the digital age, AmPopFilms was created to show these TV classics on YouTube. With their shift into the online space, they have been very successful at attracting younger generations in addition to the one that grew up watching classic television programs like The Three Stooges and The Dinah Shore Show!
Now with nearly 26 million views on YouTube, AmPopFilms is making another revolutionary shift – back to the TV screen. Using a newly available OTT platform operated by ILOOK Corporation, AmPopFilms has turned its YouTube channel into a TV network that is distributed to viewers as a mobile app. Fans use the AmPopFilms TVapp as a touch-and-view program guide and can watch classics right from their mobile screen, as well as any TV screen that is connected to the Internet.
Originally created to keep the late night genre of television alive for the Baby Boomer generation, AmPopFilms has surprisingly seen an interesting shift as younger audiences have shown interest. Today, the majority of their viewers consist of Generation X and the Millennials. This interesting movement highlights how innovative distribution and technology are keeping historic films and culture alive and well.
With an already established viewership on YouTube, the transition to a TVapp should be one that is seamless and fruitful for AmPopFilms. As the younger generation seeks out historical genres at the same time the older generation adapts to new technologies, the fan base has the potential to reach astounding new heights.
Peter Redford, CEO of ILOOK, is thrilled that his OTT platform makes it possible to again show highly coveted television classics on network television. He says, "This time around, these old TV programs are potentially even more satisfying by being available on-demand, with built-in social networking and with multiscreen capabilities."
Scott Sobel, CEO of AmPopFilms, feels that an important strength is that his TV network's icon is "prominently displayed on mobile devices right next to the other TV network apps like MTV and CNN." Sobel says that he also likes how the 2nd screen touch-and-view program guide simplifies content discovery by always being in the TV viewer's hand. He says, "Pairing this new OTT platform with our movie classics will make AmPopFilms one of the first next generation TV networks and a go-to channel for late-nite shows."
About ILOOK
ILOOK Corporation was founded in 2009 by Peter Redford, Ngoc Do and Jacek Minko and is based in Silicon Valley, California. The company provides the world's first OTT (over-the-top) pay-TV platform for YouTube channels. The platform instantly converts YouTube channels into mobile apps that appear on the mobile screen alongside TV network apps like CNN and MTV. YouTube channels effectively become TV networks, monetized by pay-per-view, subscriptions and commercials. http://www.iLook.tv