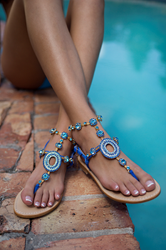 You know what they say, if the shoes fits, it's made in Italy!
Miami Beach, FL (PRWEB) July 10, 2014
Miami Beach, FL (July 19 - 22, 2014) – Putting their best "jeweled" foot forward, Capri Girl Sandals is bringing sleek and chic back, unapologetically putting glamour back in sandals this summer. On Saturday, July 19th through Tuesday, July 22nd amidst the pure energy that is Miami Fashion Week, Capri Girl Sandals will debut their Italian handmade Jeweled Sandal Collection at the Miami Beach Swim Show, the largest swimwear and resort-wear show in the world.
Leading this year's fiery hot trend of flat, jeweled sandals, Capri Girl exudes not only an effortlessly chic style but comfort as well. They are available in a fantastic array of exotic rich colors, designs and settings. Soft, Italian leather soles are deliciously embellished with characteristic Italian costume jewelry and a rainbow of precious stones, jewels, rhinestones and crystals sparkling like real gemstones on your feet. Make them truly custom by getting your initials hand stamped into the sole.
Today, many designers seek inexpensive ways to bring the latest fashions to the feet of their consumers and most no longer make their shoes with Italian made products. Only a handful are left who do and the Capri Girl Sandals brand is among them. Each unique jeweled sandal is designed & handmade to order by skilled artisans in their Capri Italy workshop, using only the finest Italian components. These sandals truly last a lifetime, making them a justifiable collectible and a must-have in your wardrobe.
Capri Girl owner, Theresa Petruzzelli raves, "Relationships are key in this industry. The relationship I have with my workshop is without a doubt my brand's greatest asset. It takes time and effort to cultivate a lasting bond with these Italian artisans who are so passionate about quality and fashion. But you know what they say, if the shoe fits, it's made in Italy!"
Want more? Capri Girl doesn't stop at just designing fabulous sandals that create shoe envy. Though unheard of in the industry, with every sandal purchase, a bottle of their signature nail polish - Capri Color, comes complimentary. Capri Color is custom blended and color matched to the sparkling jewels in the sandals. What more could a girl ask for?
Starting this July, Capri Girl Jeweled Sandals will be available across the US, minus the long flight to Italy. This jeweled fashion statement is not to be missed.
About Capri Girl Sandals
Capri Girl is a luxury Italian jeweled sandal brand dedicated to the Italian art of creating your own unique sense of style. Capri Girl Sandals is located in Boca Raton, Florida and is fully dedicated to providing retailers and consumers in the US with a unique, timelessly fashionable, and comfortable sandal that is guaranteed to always compliment current trends.
For more information about Capri Girl Sandals, please visit:
http://www.caprigirlsandals.com/