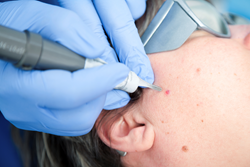 Savvy consumers understand the importance of expertise. They want to trust their face and body to a physician who is an expert in a wide variety of procedures.
Rolling Meadows, Ill. (PRWEB) July 10, 2014
Consumers trust their dermatologists more than friends and primary care physicians when considering whether to have a cosmetic procedure, according to recently released survey data from the American Society for Dermatologic Surgery.
The second annual ASDS Consumer Survey on Cosmetic Dermatologic Procedures asked more than 8,300 people in a blind online survey for their opinions on cosmetic treatments in general, and ratings for 10 specific procedures, from wrinkle-relaxers to body sculpting.
More than half of respondents say their dermatologist has the most influence on whether to have a procedure, followed by friends, primary care physician, and 11 other choices. Fifty-two percent said the specialty in which the physician is board-certified is the top factor in selecting the practitioner to perform their treatment, ahead of physician referral, price, and eight other factors.
"ASDS member physicians receive unparalleled training in cosmetic procedures, and consumers recognize this," said ASDS President Mitchel P. Goldman, M.D. "We understand the aging process from top to bottom, from the skin surface to the loss of facial volume. We are trained in a wide variety of techniques in rejuvenation of the skin, as well as rejuvenation of the underlying dermis and fat."
Consumer demand for cosmetic treatments is increasing, according to the survey. Five in 10 respondents – up from three in 10 a year ago – said they are considering having a procedure. Goldman believes this increased demand is due to a combination of factors: a more robust economy; more effective and more minimally invasive procedures; and "an aging population that does not wish to retire and is concerned with physical fitness and the desire to look as good as they feel."
The four most popular procedures under consideration are treatments to tighten skin and smooth wrinkles; procedures for facial redness, skin tone, and scars; chemical peels, and body sculpting. Those procedures all address top consumer concerns of excess weight, skin texture and/or discoloration, excess fat under the chin and neck, and sagging facial skin.
"Dermatologic surgeons not only specialize in the treatments available for these concerns, but we also pioneered many of these advancements," Goldman said. "We have perfected minimally invasive treatments, from treating lines and wrinkles to refreshing the face with laser treatments or chemical peels, and removing body fat to eliminating a double chin."
Many common concerns are easily correctable with the proper procedure and the right doctor, Goldman said.
"Savvy consumers understand the importance of expertise. They want to trust their face and body to a physician who is an expert in a wide variety of procedures," he said. "ASDS members are not just carpenters who act as a hammer, thinking everything is a nail. We utilize the most appropriate technology to individualize treatments to a patient's specific, unique concern. We are the skin experts."
To find an ASDS member dermatologist, visit asds.net/findadermatologist.aspx. Searches can pinpoint physicians who specialize in particular treatments.
About ASDS:
The American Society for Dermatologic Surgery (ASDS) is the largest specialty organization exclusively representing dermatologic surgeons who have unique training and experience to treat the health, function, and beauty of your skin. ASDS members are pioneers in the field. Many are involved in the clinical studies that bring popular treatments to revitalize skin and fill and diminish wrinkles to the forefront. Their work has helped create and enhance many of the devices that remove blemishes, hair and fat, and tighten skin. Dermatologic surgeons also are experts in skin cancer prevention, detection and treatment. As the incidence of skin cancer rises, dermatologic surgeons are committed to taking steps to minimize the life-threatening effects of this disease. For more information, visit http://www.asds.net.
Follow us:
Website: http://www.asds.net
Follow ASDS on Twitter: http://www.twitter.com/ASDSSkinExperts
Become a fan of ASDS on Facebook: https://www.facebook.com/ASDSSkinExperts
Locate a dermatologic surgeon in your area: http://www.asds.net/findadermatologist.aspx
Contact:
Beth Bales
Communications Manager
American Society for Dermatologic Surgery
847-956-9143