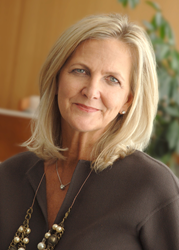 The data-driven, nonpartisan approach of the Children's HealthWatch initiative is essential if we are to truly improve the life-long health prospects for vulnerable young children.
Minneapolis (PRWEB) July 10, 2014
Hunger-Free Minnesota announced today that its Chief Campaign Officer, Ellie Lucas, has joined the Children's HealthWatch Advisory Board. Children's HealthWatch is a nonpartisan network of pediatricians, public health researchers, and policy and child health experts committed to improving children's health in America.
"I am honored to participate as a board member at Children's HealthWatch," said Lucas. "I have been so impressed by the work of this broad network of pediatricians, researchers and children's health and policy experts. The data-driven, nonpartisan approach of the Children's HealthWatch initiative is essential if we are to truly improve the life-long health prospects for vulnerable young children."
Lucas is the chief campaign officer at Hunger-Free Minnesota, a coalition of nonprofit, business and government leaders engaged in a campaign to close the states 100-million missing meal gap by 2015. Since 2011, she has been responsible for campaign leadership, working closely with Feeding America partners, United Way and coalition business partners including General Mills, Cargill, UnitedHealth Group and others. Hunger-Free Minnesota has been a supporter of Children's HealthWatch though its initiatives that address the relationship between childhood hunger and health.
Earlier this year, Hunger-Free Minnesota worked with Children's HealthWatch to collect data on the effects of food insecurity on the health of Minnesota children. In February, Children's HealthWatch published a new policy action brief, Food Security Protects Minnesota Children's Health. This brief presents new data, which shows that young children in food-insecure Minnesota families are at greater risk of poor health, have mothers who are more likely to be in poor health and to experience depressive symptoms, and are at greater risk of being overweight compared to young children in food-secure Minnesota families. The brief also outlines recommendations for public policy solutions including universal screening for food insecurity in healthcare settings, with appropriate referrals for timely intervention.
For a copy of the Children's HealthWatch Policy Action Brief or more information, contact Christine Tsang at tsang(at)neuger(dot)com or 612-843-2140.
About Ellie Lucas
Lucas has 25 years experience in public affairs, corporate relations and strategic marketing. Before joining Hunger-Free Minnesota, she was an equity partner in a technology startup, where she led strategic partnerships and marketing programs with EBay, Best Buy and W3i. Prior to that, she was executive vice president of Tunheim Partners, a public relations agency, where she led strategic corporate and community relations initiatives for Honeywell, Metris, Target, American Express and First Data Corporation. Her community engagement has included serving as chairman of the board, board officer and board member of The Center for Victims of Torture, the Children's Defense Fund scholarship program nomination committee and the Edina Education Fund.
About Hunger-Free Minnesota
Hunger-Free Minnesota is a time-limited campaign working in partnership to close the 100 million missing meal gap in Minnesota. Focused on eight targeted initiatives that combined will add 60 million new meals to the hunger-relief system, Hunger-Free Minnesota funds innovative strategies in emergency food system capacity, sourcing nutritious food options, awareness and utilization of federal nutrition programs, and child hunger strategies for food insecure populations. More information is available at http://www.hungerfreemn.org.