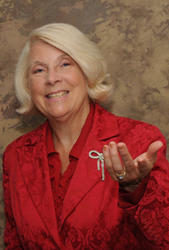 Reward, don't neglect your best customers.
Daytona Beach, FL (PRWEB) July 15, 2014
Should a business treat customers equally even though customers do not treat the business equally? No, complainers squander resources, but others are highly profitable.
In fact, a universal law, the 80/20 rule predicts that the top twenty percent of customers will produce eighty percent of the profits.
Dr. Betsy Kruger's new book, "Aesop's Keys to Profitable Marketing" coaches executives to stratify customer service policies to reward the best, not the rest. The publisher is Publishing Directions LLC.
Dr. Betsy Kruger's book explains how any business can profit from using new marketing strategies. Some of "Aesop's Keys" are to focus on quality, compete on strength, target top prospects, and reward the best. The chapters update tales by Aesop, relate his wisdom to marketing, and show how to adapt each key to their business.
For example, a vignette in Chapter 10 describes what happens when a business does not stratify its customer service policies. The manager of a CPA firm confided, "Long ago we realized the 80/20 rule predicts our sales so our sales reps seek prospects that are similar to our most profitable clients." "What special benefits do you provide your top clients?" "We treat our clients equally."
I asked her, "What about complainers?" "We're going through a difficult time so we don't want to lose any clients. We do whatever it takes to keep complainers from switching to a competitor." Speechless from her flawed logic, I thought, "That's why you're going through a difficult time."
This vignette updates a tale by Aesop. A soldier feeds his horse well on barley when they are at war. But when the war is over, the horse complains, "You make me work like a slave. I must carry heavy loads and get nothing to eat but chaff."
The trumpet sounds the call to arms so the soldier mounts his horse. Stumbling at every step, the horse says, "You better join the infantry since you can't ride me with the cavalry. You changed me into a donkey. How can you expect to change me back into a horse?"
Aesop warns us against neglecting an important asset like a soldier's horse -- or key customers. Most sales people wine and dine prospects during the sales process, but neglect them when they become key customers. Due to the neglect, they may lose interest and switch to a competitor. "I'm no longer your customer. How can you expect me to return?"
Most businesses neglect their key customers, yet give special benefits to complainers. Complainers are in the bottom eighty percent of customers so they produce little profit. They complain because your business does not fulfill their requirements.
A wise business rewards its key customers so they will remain loyal. Key customers deserve to be rewarded since they produce eighty percent of the profits and refer key prospects to the business.
Discourage complainers by stratifying customer service policies. A business is not discriminating against complainers if its policies are consistent. Provide perks to key customers, but limit benefits to complainers. Reward key customer as they reward the business.
"Dr. Kruger has laid out an easy-to-use process for growing top customers in any business," confides Robert Iocco, CPA, CIC, CEO, Trustpoint Insurance, Bristol, VA.
Dr. Kruger's mission is to ignite the engine of prosperity with her message. She conveys twelve ways any business can profit by using the 80/20 rule.
After selling her software worldwide, she provided consulting to many corporations and coached over 2000 start-ups to succeed. Her first book, "Top Market Strategy: Applying the 80/20 Rule," enriches graduate marketing courses. She owns Strategic Power, a marketing consultancy rated A+ by the Better Business Bureau and certified by WBE and WOBE.
Dr. Betsy Kruger coaches business leaders and speaks to associations and businesses. She is an expert source on the topic of marketing for small businesses and start-ups. For more information, please call her at 386-235-5296 or email Betsy(at)BetsyKruger(dot)com.