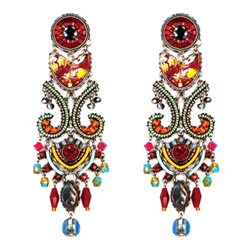 Are you ready to accesorize? Fall is coming and the leaves are starting to turn brown, the Ayala Bar Fall 2014 collection has arrived, and we want you to feel it with a fresh and irresistible look for the season!
Alpharetta, GA (PRWEB) July 22, 2014
Setty Gallery, your source for unique handmade designer jewelry, is pleased to announce the availability of the newly launched Ayala Bar Fall 2014 collection at settygallery.com. Handmade designer jewelry lovers seeking an innovative and exciting look for the fall will not be disappointed. Ayala Bar Jewelry has a unique and stunning style reflecting the most personal touch yet staying true to the evolving trends in the fashion world. The Ayala Bar Fall 2014 collection is one of the most inspiring that Israeli Jewelry has to offer.
Symphonic lines of colors, and fusions of eclectic materials set this line of jewelry apart from the "norm" in its eye-catching allure. Each piece of jewelry uncovers a story behind it in its graciously handcrafted look and diverse appeal. The hip, radiance, classic, and indigo flares of this collection with their many styles feature something for every taste and personality. Set your passions on fire while frolicing to the Fire Dance Ayala Bar style, its paprika reds and flamey oranges will light up an outfit any day of the year. Boho and chic, the Wisteria style is a timeless combination of eclectic prints,mesh, and glass beads, all multistranded and infused with an arrangement of soft pinks, precious purples, and bright greens that gives off the flawless fit. The Dragon Fruit style is simply a sensation to the senses; it reflects an exotic and enticing aroma everywhere with its fusion of crimson reds, popping purples, and electric greens; Bon Appetit! Each style is exotic in the beginning of a journey. The collection stands out as it allows each individual to find a new passion in its various styles and stories to tell.
In the world of contemporary fashion jewelry, the premier Israeli jewelry designer Ayala Bar is a one-of-a-kind artist. Her intricate designs and combinations of natural elements and glass with assorted elements are drooled over across the globe. Celebrities such as Fergie, Maiara Walsh, Lady Victoria, and many more have been spotted wearing the artist's jewelry. Every year, the dedicated artist releases two collections- Fall and Spring. The artist's designs are exhibited in over 35 trade shows worldwide, and marketed in select retail outlets, art galleries, and museum stores internationally.
About Setty Gallery:
From its location at the heart of the city of Atlanta, Setty Gallery carries an inspiring online selection of Ayala Bar jewelry as well as the exquisite creations of other world leading designers. Setty Gallery knows the latest and greatest in the world of handmade designers jewelry and consistently updates its online selection of jewelry, adding the works of new designers and new collections. Works from designers available include: Ayala Bar, Michal Negrin, Orna Lalo, Michal Golan, Mary Frances, and more. Ever since the launch of Setty Gallery in 2005, the company has aimed to create an atmosphere of the best possible jewelry purchasing experience for its worldwide customers. Place your order online at settygalery.com, or contact the company's customer service department at 1-800-216-8066. Follow Setty Gallery on Facebook, Twitter, Pinterest, and Instagram for exclusive offers and the ultimate online jewelry shopping experience.