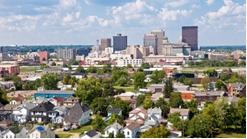 "The growth of the shale drilling in Belmont County continues to move at a fast pace," Belmont County Commissioner Mark Thomas said in a conversation with local publication Columbus CEO.
(PRWEB) July 11, 2014
Competition is almost always a positive for industries where consumers can benefit from innovation and new strategies designed to increase production. Organizations that constantly try to one-up one another look for new ways to do so, which spurs the development of new products and services. Ultimately, the advantage tends to go to the consumer. In Ohio, it isn't just companies, but also counties that are competing for the top spot in oil and gas production. While many are in a close race for second place in the state, one county stands above the rest as the leader in the industry. And despite a significant discrepancy between first and second place, everyone is a winner because competition for that top spot has resulted in record highs for the state overall.
According to data from the Ohio Department of Natural Resources (ODNR), Carroll County leads in both oil and natural gas production, and its lead in the latter is particularly impressive. In 2013, Carroll County produced 50.2 billion cubic feet of natural gas. Harrison and Belmont counties placed second and third with 12.7 and 12.4 billion cubic feet, respectively. Although there was more competition in the oil production race, Carroll still finished first with 1.8 million 42-gallon barrels, followed by Harrison with 1.1 million. No other county cracked the seven-digit mark.
Carroll is home to 209 operating wells, making it the undisputed leader in production, so its dominance in these two areas is understandable. While every other county is looking up at Carroll, many are making investments into new wells and production tools in an attempt to keep pace. In addition to finishing third in natural gas production, Belmont County is eighth in oil production with just over 21,000 barrels in 2013, but is making strides to improve.
"The growth of the shale drilling in Belmont County continues to move at a fast pace. It is very clear now that the county is at the forefront of much of the future drilling in Eastern Ohio and the commission continues to look forward to the future business and economic growth it will bring to Belmont County," Belmont County Commissioner Mark Thomas said in a conversation with local publication Columbus CEO. "It is great to be able to support and help new business earn their start in Belmont County as they complement all of our existing, deeply-rooted businesses. The domino effect of new and old business is churning a great Belmont County economy today and will in future years."
The real takeaway from all of this is that Ohio as a whole is improving its oil and gas production as it attempts to keep up with leading states such as North Dakota and Texas. According to state officials, Ohio doubled its oil and gas production last year, and it can all be attributed to a competitive market.
"Ohio's oil and gas industry is growing and moving our state toward energy independence," said James Zehringer, ODNR Director. "At the same time, we have updated our laws and increased our staff to provide Ohioans the proper protections as the industry continues to grow."
It will be interesting to see what results 2014 brings when all is said and done, but it's likely competition will remain strong and that the state as a whole will continue to grow in the energy sector. Producers can help their county and state's cause by investing in solutions designed to improve performance and increase efficiency. Chem Rock Technologies, for example, offers fracturing chemicals that can help improve formation fracturing and production performance at wells targeting shale formations like the Marcellus and Utica.