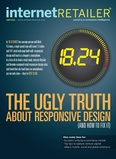 On average, Unbound's dedicated mobile site page load times outperform transcoded "screen scraped" pages by up to 3X and responsive web design pages by up to 6X.
Boston, MA (PRWEB) July 10, 2014
Revenue generated from dedicated mobile commerce sites built and deployed by leading mobile commerce solution provider Unbound Commerce jumped 113.87%, for a same-store index of 350+ retailers, as compared to the same three-month period in 2013.
This impressive aggregate growth percentage shows that mobile commerce not only more than doubled year over year, but that the pace of this growth is accelerating. A report issued in April showed Q1 January through March growth of 101.45%.
Mobile commerce revenue is the big number, but other metrics also showed impressive increases in the second quarter.
The average value of an order placed on a mobile device was up 31.45% to $108.89, versus $82.84 for the same period in 2013. Mobile conversion rates also jumped up solidly, increasing by 27.44% over 2013, as consumers demonstrate they are increasingly willing to convert sales via smartphone.
The total number of unique users increased 25.02% and the number of page views rendered to these users jumped up by a solid 47.97%. On average, each session rendered 6.29 mobile pages to a mobile site visitor.
Page load times dropped 10.33% in the second quarter and this is likely attributable to the fact that a number of top-tier sites were redesigned and re-launched, with the goal of improving performance. On average, Unbound's dedicated mobile site page load times outperform transcoded "screen scraped" pages by up to 3X and responsive web design pages by up to 6X.
"We are seeing strong demand for our dedicated, integrated solution, as the performance pitfalls of responsive start to emerge," said Wilson Kerr Unbound Commerce VP Business Development and Sales. "Our retailers are able to serve purpose-built mobile commerce sites that are far-more than shrunken versions of their ecommerce sites and the aggregate impact of this ability is adding up fast, in the form of incremental revenues," he added.
Unbound recently published 3 Case Studies detailing specific success stories for Monster Cables, Finish Line, and Patrick James. Based on growing demand, integrated tablet commerce sites are being built for a growing number of Unbound clients. In-store mobile engagement is also a hot growth area for the company. Both tablet and in-store mobile tap the same dedicated integration completed for the mobile commerce site, making the total cost of ownership quite low.
About Unbound Commerce
With more mobile and tablet site deployments than any other solution provider, Unbound Commerce is the industry's #1 provider of mobile commerce solutions for online retailers. Unbound's unique, low-IT hybrid approach means an ecommerce integration can be leveraged to deliver mobile commerce, tablet commerce, commerce-enabled apps, and in-store engagement. Unbound also equips each mobile site with marketing tools to help retailers and brands bridge online and offline consumer touch points, at point of sale. Unbound has built and deployed mobile and tablet sites for Cali and York, Monster Cables, Patrick James, Shoe Carnival, Rockport, Finish Line, FLOR, Miller Brewing, Adam and Eve, The New England Patriots, Cavenders, and over 350 other retailers. For additional information, please visit http://www.UnboundCommerce.com.