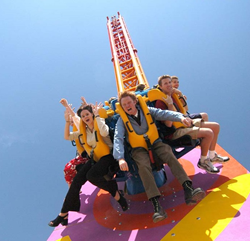 We're bringing fun, family time, and technology education together!
Denver, CO (PRWEB) July 10, 2014
TAKE ACTION ON THE TSUNAMI OF DATA
Date: July 24, 2014
Time: 11 a.m. – 1 p.m.
Location: Denver Downtown Aquarium
Content: This event will be vertically focused on the energy, utility, and water industries. It will deep dive into how analytics has evolved and is now playing a huge role in business strategy. To bring that point home for these industries, the discussion will delve into the data collected by sensors, smart grids, and smart meters and will finish up by looking at specific use cases from within their marketplace.
Cherry on Top: There will be a raffle for a 6-pack of Aquarium passes for the winner to come back and tour one of Denver's best attractions with friends and family!
#RECOVERDISCOVER IN AMAZING RACE STYLE
Date: July 25, 2014
Time: 1 p.m. – 5 p.m.
Location: Elitch Gardens Theme Park
Content: HP Discover in Las Vegas is one of the biggest technology events of the year, but not everyone was able to make it to Vegas last month. This event brings the biggest highlights from Discover to Denver.
Cherry on Top: This whole event is good enough to be the cherry on top!

Attendees are allowed (and encouraged) to bring their families.
The Amazing Race was the inspiration behind the event's design, so you get to be interactive and competitive.
Winners will receive incredible prizes.
The event is held at a theme park, for goodness sakes.