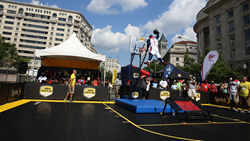 'SnapSports surfaces are portable, high performance courts that guarantee the quality, performance, and safety required for each NBA fan event.' – Patrick Sullivan, NBA Vice President Events
Salt Lake City, UT (PRWEB) July 10, 2014
With the dog days of summer officially underway, the temperature is not the only thing heating up. Following successful stops in Washington, DC and Philadelphia, PA, the 2014 NBA Nation Tour presented by Sprint is gaining momentum and heading west, stopping in Sacramento CA July 11th-13th. The tour travels with their custom SnapSports® Outdoor Bounceback ShockTower® Basketball courts, high performance surfaces chosen for their ease of installation and top safety ratings. SnapSports, a Utah based company, is ecstatic to be the 'Official Court of the 2014 NBA Nation Tour.'
"SnapSports is honored to be recognized as the world's leader in performance sports surfacing and chosen as a partner to meet the high standards required for all of the NBA NATION events around the world," said Jorgen Moller, CEO SnapSports. "We are proud to be able to offer the same industry leading technology used by the NBA to residential backyards and athletic facilities across the globe."
The 2014 NBA Nation Tour presented by Sprint is the League's largest traveling interactive experience, featuring contests, clinics, and player appearances aimed to please fans of all ages and skill levels. The stop in Sacramento, taking place at the California State fair, expects attendance upwards of 200,000. Outside of the regularly scheduled events, fans in Sacramento will be treated with appearances by Ryan Anderson, Forward for the New Orleans Pelicans and NBA legend Henry Turner. Performances by the Sacramento Kings dancers and Corps are also scheduled. With a busy weekend of dancing, dunking and shooting for the sky, the NBA needs a versatile surface that performs in all temperatures and climates, making SnapSports BounceBack ShockTower the easy choice.
"SnapSports surfaces are portable, high performance courts that guarantee the quality, performance, and safety required for each NBA fan event," – Patrick Sullivan, NBA Vice President Events. "We are excited to partner with the team at SnapSports."
About SnapSports:
Based in Salt Lake City, the family at SnapSports have been engineering, manufacturing, and providing the world's leading indoor and outdoor multi-courts, basketball courts and indoor sport surfaces for nearly four decades. As the pioneers of the modular sports surfacing industry, the SnapSports team continues to develop the most advanced, multi-patented, modular sport surfacing and indoor/outdoor game courts for top athletes and families all over the world. With unparalleled experience and a high performance product line, SnapSports is the industry's undisputed champion. SnapSports manufactures in their 150,000+ square foot, ISO 9001:2008 Quality Certified facility, operating 24x7 and supported by an authorized global network of dealers.
SnapSports is the official sport surface provider for United States Futsal (USFF), AAU 'Jam on It' Basketball, Volleyball Festival, Special Olympics, AAU 'All Under One Roof' Basketball, Veteran Wheelchair Games, Colorado Crossroads, National Collegiate Roller Hockey Championships, AAU 'Big Mountain Jam', and USA Team Handball.