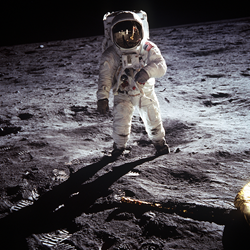 Garden City, NY (PRWEB) July 10, 2014
For the first-time ever, key figures who made the summer of 1969 the most momentous summer in U.S. history will gather at New York's Cradle of Aviation Museum (http://www.CradleOfAviation.org) in Garden City to jointly celebrate the 45th anniversaries of the Apollo 11 Moon Landing (see: Apollo 11 videos), the 1969 Woodstock Festival, and the amazing '69 Mets World Series win, with a new exhibit, "Summer of 1969," featuring photographs and artifacts from all three historic events. Astronauts Buzz Aldrin (Apollo 11), Fred Haise (Apollo 13), and Walt Cunningham (Apollo 7) are scheduled to participate in opening festivities at the Museum on July 11 and 12, as are Woodstock organizer Artie Kornfeld and Woodstock performer Robert Leonard, and former Mets stars Art Shamsky, Ed Kranepool, and Bud Harrelson.
The Cradle of Aviation Museum is home to one of the largest collections of air and spacecraft in the world, which are arranged in eight galleries that take visitors through over 100 years of air and space history (see: Museum Highlights Video). To put the summer of 1969 into a retrospective, the Summer of '69 exhibit will feature photographs, rare video footage and artifacts from the Apollo space program, Woodstock, and the Mets.
For the Apollo portion of the exhibit, the Museum will have fifty photographs on loan from Mr. George Tibball, plus a variety of artifacts, including Neil Armstrong's flight suit and a small moon rock. A collection of fifty Woodstock-related images by photographer Elliott Landy and artifacts from the actual festival on loan by the Museum at Bethel Woods (site of the Woodstock Festival) will take visitors on a trip "back to the garden." And finally, relics from Shea Stadium, autographed sports memorabilia, and photographs will bring to mind how the Mets went from being a mediocre team to winning the World Series.
The opening celebration of the "Summer of 69" will include a variety of special events starting with a Press Conference on Friday, July 11, at noon, with Walt Cunningham, Artie Kornfeld, Rob Leonard, Art Shamsky, Bud Harrelson, Ed Kranepool, I LOVE NY Executive Director Gavin Landry, Cradle of Aviation Executive Director Andy Parton and Summer of '69 creator Marvin Baum.
On Friday evening, July 11 at 7:30 p.m., the Museum will host "An Evening with Apollo Astronauts Walt Cunningham and Fred Haise." Tickets for that event are $20 each.
Saturday, July 12, brings legendary composer, publisher, producer, manager, promoter, and Woodstock Festival organizer Artie Kornfeld to share his recollections with visitors about Woodstock, as well as his experiences in the music industry during the dawn of the rock and roll era. Artie will be available from 11 a.m. - 1 p.m. and from 2 p.m. - 4 p.m., and this event is free with museum admission.
Later that night at 6 p.m., the Museum will host its "Apollo 11 Dinner" with Astronauts Buzz Aldrin, Walt Cunningham, and Fred Haise for a once-in-a-lifetime experience. Woodstock Organizer Artie Kornfeld will be in attendance too in celebration of the Summer of '69. Dinner tickets are $100 each and reservations are required.
Tickets for the astronaut talk and Apollo 11 Dinner can be purchased by calling the Museum's Reservation Line at (516) 572-4066.
The Summer of '69 Celebration was created by Marvin Baum of Baum Image group who also created the Woodstock 35th Anniversary Celebration in 2004. The Woodstock portion of the exhibit was produced by Baum Image Group and the Apollo and Mets portions of the exhibit were produced by the Cradle of Aviation Museum.
The Summer of '69 exhibit will be open from July 12 through September 1, 2014. An event planned for September with members of the '69 Mets will be announced later in the summer.
For more information, please visit http://www.CradleOfAviation.org.
Editor's Note: Photos and videos may also be downloaded for this story at http://www.cradleofaviation.org/press.html