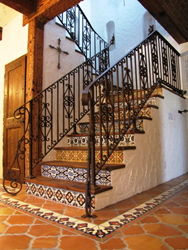 As the leader in the Mexican tile industry, we combine our "lowest price guarantee" with steep shipping discounts for a great value to our end users.
Austin, Texas (PRWEB) July 18, 2014
Rustico Tile & Stone's new Mexican Tile webpage provides a wealth of information about all styles of Mexican tile and stone plus a place to access project consultants, installation requirements and photos.
Not sure which type of Mexican tile or stone is right for your project? Rustico customer service associates are specifically trained in matching clients with the right materials for projects calling for Mexican tile. Product specialists are tasked to educate consumers about design options, functionality and best Mexican tile installation methods.
Often when designing a new space or remodeling an existing one, a project will require more than one type of tile. Count on Rustico to be the "one stop shop" for all styles plus low worldwide shipping all in one place.
Whether a consumer is a homeowner, interior designer, in commercial design, etc., Mexican tile and stone purchased from Rustico can lend itself to many architectural styles. The following are the most commonly used Mexican tiles in design projects: Saltillo/Terra Cotta tile is perfect for indoor/outdoor applications as floor Mexican tile, Tuscan and Mediterranean decor. Mexican Encaustic Cement Tiles have the ability to be customized for indoor and outdoor spaces. This Mexican cement tile combines function with beauty. Cantera Stone is ideal for indoor features and in outdoor living spaces, including: Stone columns, Cantera Fireplace Surrounds, Cantera stone tile, Range hoods and more. Last but not least, Talavera Mexican painted tile comes in two varieties: Talavera Superior is suitable as floor and wall tile and Talavera Traditional would be great to accent a wall or floor.
Follow Rustico's simple guides for easy instructions to install Mexican tile. View photos of Saltillo tile, Hammered Copper sinks, copper bathtubs, and copper sconces, pictures of Talavera painted tiles, and of Cantera stone fountains, hoods, and more. All this can be accessed by visiting Rustico's new Mexican tile webpage today (http://www.saltillotileconnection.com/mexican-tile/)!
Rustico Tile & Stone are the leading manufacturers and distributors of Mexican tile in the US. Contact Rustico Tile & Stone for questions. A price quote request can be submitted online (http://www.saltillotileconnection.com) or via email info(at)rusticots(dot)com. Call (512) 260-9111. Custom production and installation of Mexican tiles and Cantera stone is available. "Lowest Price" guarantee in the U.S. and worldwide shipping discounts.
Check out images and a new promotional video here (http://www.saltillotileconnection.com/Mexican-tile/).