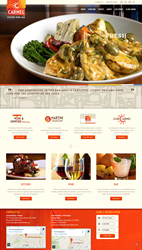 We are thrilled with Bayshore Solutions' work on this new responsive website which will reach consumers on numerous devices.
Tampa, FL, and Denver, CO (PRWEB) July 10, 2014
Custom website development firm and digital marketing agency, Bayshore Solutions, is pleased to announce the launch of the Carmel Kitchen restaurant website focused on distinctive brand positioning for new Pennsylvania locations.
Bayshore Solutions was originally selected by MVP Holdings, LLC to develop and launch a website for one of their Florida based restaurants also emphasizing small and sharable plate offerings complemented by wine pairings. Our continued partnership carried forward to develop a web presence to support the brand introduction of the Carmel Kitchen restaurant in Wayne, Pennsylvania.
Carmel Kitchen recently opened their Wayne, PA location with another underway in Warrington, PA, scheduled to open in the middle of July 2014.
Refinements that shape Carmel Kitchen's distinctive brand include a focus on dinner and evening dining for young professional couples and friend groups, featuring modern Mediterranean cuisine, wine bar and craft cocktails service, and Menupad technology allowing guests to create and control an individualized dining experience.
Bayshore Solutions developed the Carmel Kitchen restaurant website in a responsive website design to ensure a convenient and pleasant experience for visitors accessing it from any device. Custom programming supports the menus, convenient purchases of gift cards online, online reservations and administration of the Club Carmel program for members.
"Bayshore Solutions has always been a valued part of our team. We are thrilled with their work on this new responsive website which will reach consumers on numerous devices." said Beth Rohrer-Hammer, Director of Marketing for Carmel Kitchen.
"We are pleased to deliver this new website to promote the success of Carmel Kitchen," said Kevin Hourigan, President and CEO of Bayshore Solutions. "To earn continued business with our customers is a great achievement for Bayshore Solutions and we seek to keep earning this trust by developing the best web technology to suit the unique business situation of each customer and drive desired results for their brand."
Read more about Bayshore Solutions' development of the Carmel Kitchen restaurant website here
http://www.bayshoresolutions.com/portfolio-home/case-studies-launches/carmel-kitchen-website.aspx.