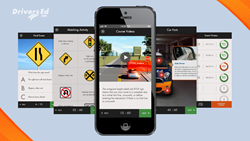 Oakland, California (PRWEB) July 10, 2014
Continuing a decades-long tradition of innovation, DriversEd.com has pioneered yet another new way for students to take a rich, full-featured online driver education course: via a downloadable app. Available in Apple's App Store, the app presents the exact same award-winning content and features that California students have long enjoyed on the DriversEd.com site. "This new app," says DriversEd.com founder and Chief Technology Officer, Gary Golduber, "will allow California students to take a fully approved driver education course with unprecedented convenience, multimedia, and control over the whole experience."
The app delivers a DMV-approved California driver education course, and gives students the official Certificate of Completion they need. DriversEd.com's unique interactive 3-D case studies let students try different maneuvers in a wide variety of driving situations, and show the consequences of good and bad decisions alike. Award-winning video presentations work alongside high-quality graphics and text crafted by driver education industry professionals with decades of experience. Clever activities further engage students throughout the course, helping to ensure that they master the material before the final exam. The app also comes with hundreds of free practice test questions, to prepare students to ace their DMV permit test so they're truly road ready.
"When we built this app," Gary Golduber, points out, "the challenge wasn't to create a high-quality driver education course-we've been doing that for years! What we wanted to do was allow the student to switch from app to online course and back at any time, from anywhere." Students can take the course online on desktop, mobile, or tablet, or via the app: it's completely up to them. "Our students can log in from their app, right from their phone, complete some of the course, log out, then log back in from their laptop, and pick up exactly where they left off. The traditional app model, which links one user to one device, is obviously very limited, and it was important to us to solve that problem."
"Best of all," adds Mr. Golduber, "they can download the app and start the course absolutely free." Students can take up to 20% of the course before paying, and, naturally, they can complete payment right through the app. He concludes, "People want to be mobile: that's why they take driver education in the first place. And there's nothing more mobile than our app!"
DriversEd.com is the largest and most visited online drivers education site in the nation. The company has provided high-quality, state-approved courses to students since 1997, and has more state-approved courses than any other online provider. DriversEd.com has helped more than 6 million students become safer, more confident drivers.