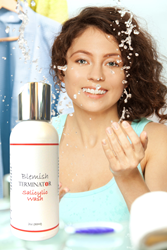 Salicyclic acid benefits both oily skin and aging skin with its powerful qualities.
St. Petersburg, FL (PRWEB) July 29, 2014
Treat skin to a true cleansing with the new salicylic wash from Sublime Beauty®.
Today and tomorrow only (while supplies last), take 40% off at Amazon with coupon code SALGWFT5.
"The cleanser is ideal for two specific users:
1) those with oily skin who need help to keep pores unclogged and bacteria free, and
2) aging skin to help reduce lines, exfoliate lightly and even out skin tone," says Kathy Heshelow, founder of Sublime Beauty®.
Those with oily skin can use the wash twice daily. It should be used about three or four times weekly for those with aging or dry skin.
Salicylic acid (at 2% in this cleanser) is well-known for treating acne or oily skin, and it is also wonderful as an anti-aging treatment and gentle exfoliator. Refreshing chamomille and aloe are also included.
Buy while initial supplies last at Amazon.
ABOUT: Sublime Beauty® is a quality skincare company that focuses on products to "Age Younger". Products help to boost collagen, hydrate, relax wrinkles and improve skin. A niche includes healthy Skin Brushes. The company webstore offers free standard shipping and a VIP Club. Sign up for Secret Sales on the site. Products also available on Amazon.