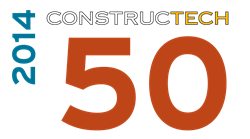 We are pleased Viewpoint has been included on this list and believe it validates our ability to continually improve and strengthen our products, services and reputation for delivering solutions that address the entire construction life cycle
Portland, Ore. (PRWEB) July 10, 2014
Viewpoint Construction Software®, a leading provider of innovative software solutions and services to the construction industry, is pleased to announce it has been named a Constructech 50 company for the sixth year in a row. The Constructech 50 is a listing of the most influential construction technology providers with a strong and ongoing market presence.
"We are pleased Viewpoint has been included on this list and believe it validates our ability to continually improve and strengthen our products, services and reputation for delivering solutions that address the entire construction life cycle, from preconstruction, to construction and facilities maintenance," stated Jay Haladay, CEO of Viewpoint. "With more than 35 years' experience in the construction industry, Viewpoint goes beyond offering the right software solutions by also providing a partnership committed to developing contemporary and innovation solutions which continually improve our customer's ability to confidently operate and grow."
"As we release the annual Constructech 50, the tech companies that are recognized realize they have to do more than just make upgrades to their product. They have to help drive the construction industry forward, and this means doing something special year after year to be recognized on the Constructech 50," says Peggy Smedley, editorial director, Constructech magazine. "Viewpoint Construction Software has built its ERP technology on a modern framework and since that time has built out its suite for mobile, BIM and more. The company has been a leader in the space for years and has positioned itself to continue to be one of the top technology companies."
Viewpoint's product portfolio has expanded to now include two core solution suites, Vista by Viewpoint, geared for medium to larger customers, and ProContractor for small to mid-sized customers. Along with these core offerings Viewpoint provides point solutions that integrate with construction specific ERP solutions on the market as well as Vista by Viewpoint, and provide tools for takeoff and estimating, project and BIM collaboration, mobile field-data collection and management, and content management.
The companies on the Constructech 50 continually help construction firms leverage the power of technology. The list is an essential recognition for construction technology providers that are driving the construction industry forward. Since 2009, Constructech magazine has been publishing this highly anticipated annual list of the Constructech 50.
About ConstrucTech
ConstrucTech magazine is where construction and technology converge. The publication influences construction professionals to unleash the business value of technology, http://www.constructech.com.
About Viewpoint Construction Software
Viewpoint is a global provider of innovative construction-specific software solutions and services that offer contractors large and small the tools they need to improve project profitability and visibility, manage risk, and effectively collaborate with the entire building team. Viewpoint solutions include everything needed from preconstruction to facilities maintenance and are offered on a variety of platforms including cloud, SaaS and on premise. Headquartered in Portland, Oregon, USA, and with offices in the UK, Australia and Canada, Viewpoint has become the technology partner of choice, with customers located across the globe in more than 28 countries. For more information, please visit http://www.viewpoint.com.
© 2014 Viewpoint, Inc. dba Viewpoint Construction Software. All Rights Reserved. Viewpoint®, Viewpoint Construction Software®, Viewpoint V6 Software®, Vista by Viewpoint™, ProContractor by Viewpoint™, Construction Imaging®, Mobile Field Manager™, 4Projects®, Viewpoint For Project Collaboration™ and Viewpoint For Estimating™ are trademarks or registered trademarks of Viewpoint, Inc., in the United States and/or other countries. Other names and brands may be claimed as the property of others.