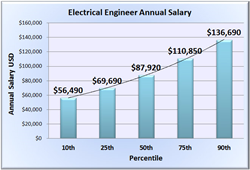 (PRWEB) July 12, 2014
For people who are looking for salary information, job searching, or career exploration in engineering careers, the new Engineer Salary website Engineer-Salary.com provides lots of value. Engineer Salary hopes to become a top resource for the earning potential of various engineering jobs that people could be considering. A wide range of jobs are included, such as mechanical engineering, aerospace engineering, biomedical engineering, and many others. The creator hopes to publish more in the future.
Engineering Salary was created with several goals in mind. Primarily its target audience includes people who are considering a career change or are prospecting a job's pay for someone who lives in geographical regions and have similar experience levels as them. The main idea is to research a career (salary is an important factor, since most people would not work for free), before investing time and resources in relocation or training.
The website has a very simple and intuitive design. It is easy to browse and the navigation makes sense. The main page is arranged in a chart format that features each engineering career, with basic statistical information and attractive thumbnails. For those who wish to learn beyond the salary summaries, a link is provided with each career that leads to a more detailed page.
Each of these specialized pages will have more detailed salary charts and informative details about the career, including statistical data. A visitor will be able to compare salaries of different geographical locations as well as industries relevant to each job. Job outlook is also important to determine whether a career is worth pursuing, since one with a negative outlook would probably not be a career to choose.
When asked to speak of the website, the founder had this to say: "There are lots of people who are interested in learning more about different and new careers. I know I am one of those people. Sometimes you have too many interests, or none at all, and you just want to know what's out there and what's viable. Thankfully we have the Internet. I wanted to build a website that addresses career and salary concerns. It is important to look at the possibilities from many angles, because as far as a job is concerned, a person will need to be able to become stable, otherwise a career is not going to be worth it. For engineering, prospects have to be decent because a lot of training and education is going to be involved."
When looking at prospects, statistics of earnings at the 10%, 50%, and 90% levels as well as earning averages give a good idea of what to expect. Typically people at the 10th% level are entry-level, 50th% have about 5-10 years of experience, and the top 90th% have 10-20 years of experience.