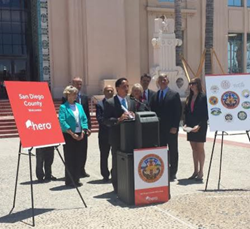 We are thrilled to see PACE finally come to fruition in San Diego as this will help more people realize the benefits of solar power and advance our goal to revolutionize the way San Diego generates energy.
San Diego, CA (PRWEB) July 09, 2014
Today, San Diego City and County officials urged homeowners to use Property Assessed Clean Energy financing to reduce energy and water use, while putting money back in their pockets. San Diego County Supervisors Dianne Jacob and Dave Roberts joined San Diego City Council President Todd Gloria, Sullivan Solar Power's Tara Kelly and Renovate America's CEO JP McNeil at a press event this afternoon to announce the launch of Property Assessed Clean Energy (PACE) throughout San Diego.
Residents living in the city of San Diego, Unincorporated San Diego County, El Cajon and Escondido are now able to participate in the new government solar financing, PACE, through the HERO financing program.
"This program makes it easier for many consumers to save money and go green, opening the door to more rooftop solar panels, more energy-efficient windows and other improvements," said Dianne Jacob, chairwoman of the county Board of Supervisors and a solar homeowner.
PACE allows property owners to finance solar power systems through property taxes without spending any money out-of-pocket and without a credit score requirement. Scientific American magazine named PACE one of 20 ideas that can change the world.
"We are thrilled to see PACE finally come to fruition in San Diego as this will help more people realize the benefits of solar power and advance our goal to revolutionize the way San Diego generates energy," said Daniel Sullivan, president and founder of Sullivan Solar Power.
With HERO Financing, homeowners can go solar for no upfront payment and repay for their solar power system through property taxes and the interest is tax deductible. This allows homeowners to tie their solar investment to property taxes rather than taking a personal loan, and the investment stays with the property when a homeowner moves. Annual payments are often much lower than current electric bills, and the homeowner is able to secure a lower electricity rate for the lifetime of the system.
"Our quality life, our natural resources, our environment are worth fighting for and San Diegans can do their part by joining the PACE program," said San Diego City Council President Todd Gloria. He continued to explain that by reducing the amount of water and energy homes consume and doing it in a way that reduces bills, local homeowners are able to save money.
Sullivan Solar Power is a certified contractor of the San Diego government solar program. To see if you pre-qualify for HERO, and to learn how to apply for solar financing, call 1.800.SULLIVAN. They will provide a free estimate and in-depth evaluation to show you the great benefits of this new program.
"Sullivan Solar Power was a pioneer in helping us build the HERO Program into what it is today, said Ken Conway with Renovate America, the local company offering PACE financing in San Diego, " They continue to be one of our top registered contractors."
Other communities offering PACE financing in San Diego County include Carlsbad, Chula Vista, El Cajon, Escondido, Lemon Grove, Oceanside, San Marcos, Solana Beach and Vista. These initiatives have resulted in $5 million in energy saving projects to date. PACE will soon be offered in Coronado, Encinitas, Imperial Beach and La Mesa.
About Sullivan Solar Power
Sullivan Solar Power is a turnkey solar system provider that delivers solar electric projects from concept to completion with offices in the Orange County, Inland Empire and San Diego. The company has installed more than 18.5 million watts of solar power ranging from residential to large commercial and municipal systems. Sullivan Solar Power has a longstanding A-plus rating with the Better Business Bureau, with no complaints filed since its founding in 2004. The firm has been named one of the nation's fastest growing energy companies by Inc. Magazine and services clients throughout Southern California. Regardless of project size and scope, Sullivan is committed to delivering the best products provided by the most qualified professionals to every customer. Visit http://www.sullivansolarpower.com for more information.
About HERO
HERO is the largest residential PACE program in California, financing more than 90% of all residential PACE projects in the state, with more than $250 million financed to date. HERO has also created more than 2,400 jobs throughout California. Cities and counties need only pass a resolution in order to make PACE programs like HERO available to local property owners. The HERO program has received the Governor's Environmental and Economic Leadership Award in California, the Urban Land Institute Best of the Best, and the Southern California Association of Governments President's Award for Excellence. To learn more about the HERO Financing Program, and to apply, property owners can visit http://www.HEROProgram.com or call 855-HERO-411 (855-437-6411).
###