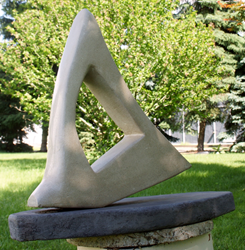 "We always view this event as a unique opportunity to experience the artist's personal work space"-Rosemary Bertelle, Vice President of Marketing for Rhinebeck Bank, presenting sponsor of the event
Rhinebeck, New York (PRWEB) July 16, 2014
The 2014 Art Studio Views event, expected to draw more than 300 people for private studio tours on Labor Day weekend, has announced this year's list of participating artists. Event organizers have noted that three couples, Kevin and Linda Palfreyman, Ted and Melissa Braggins, and Carl and Marilyn Grieco, as well as a mother-son duo, Bianca and Lucas Terranova, are among the participants this year.
"Artists rely heavily on the support of their families throughout the creative process," stated Joanna Hess, director of Art Studio Views 2014. "The number of married couples we have on the tour this year, as well as our mother-son team Bianca and Lucas Terranova, showcase the beauty of building family bonds through art."
"This year's Art Studio Views Tour yet again features exceptional talent," says Rosemary Bertelle, Vice President of Marketing for Rhinebeck Bank, presenting sponsor of the event. "We always view this event as a unique opportunity to experience the artist's personal work space. We have enjoyed watching the event grow throughout the years and look forward to another successful event."
The studios of the artists will be open to the public at no cost on Saturday, August 30, and Sunday, August 31, from 11am-5pm each day. Artists will be available at each location to answer questions and discuss work on display. The participating artists are all located in Northern Dutchess County, and are as follows:
TIVOLI
Dana Matthews, photographer/painter
Kevin Palfreyman, painter
Linda Palfreyman, painter
RED HOOK
Dan Goldman, photographer
Red Hook Community Arts Network (CAN) – Headquarters location

Sean Bowen, painter
Kathy Cassens, photographer
Equis Art Gallery, -Juliet Harrison, director
Kari Feuer, painter
Jessica Wyant-Pendlton, mixed media
RHINEBECK
Melissa Katzman Braggins, printmaker
Ted Braggins, printmaker
Richard Chianella, photographer
Maureen Gates, photographer
Patti Gibbons, painter
Vera Lambert Kaplan, painter
John Lavin, ceramic artist
Sally Lyon, painter
Jeff Romano, painter
Bianca Terranova, jeweler
Lucas Terranova, painter
Dean Vallas, painter
Betsy Jacaruso Gallery – Headquarters location

Betsy Jacaruso, painter
Cross River Fine Artists, painters
HYDE PARK
Tarryl Gabel, painter
Carl Grieco, sculptor
Tatiana Rhinevault, painter
Artists' Collective of Hyde Park – Headquarters location

Maryam Ali - Ceramics
Barbara Bergin - Watercolors
Carl Grieco – Sculpture
Marilyn Grieco - Textile/ Mixed Media
Sandra Hicks - Stained Glass
Diane-Ellen McCarron - Watercolors
Dwight Reed - Photographer
Elizabeth St. Leger - Painter
Barbara Todd - Photographer
Tours are self-guided, and visitors can pick up maps at one of the three Art Studio Views headquarter locations: Betsy Jacaruso Studio & Gallery, 43-2 East Market Street, Rhinebeck; Red Hook Community Arts Network, 7516 N. Broadway, Red Hook; or the Artists' Collective of Hyde Park, 4338 Albany Post Road, Hyde Park.
In addition to the presenting sponsor Rhinebeck Bank, other sponsors include The Gardens at Rhinebeck, Vicki L. Haak, CFP, Ameriprise Financial Services, and Cale Communications.
For more information, call 845.758.0335 or visit artstudioviews.com.